Loaded Baked Potato & Chicken Casserole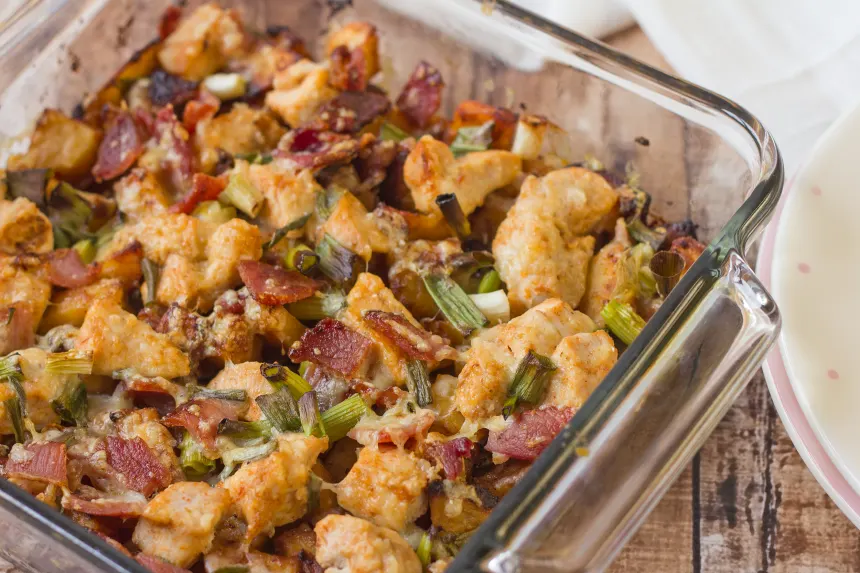 photo by anniesnomsblog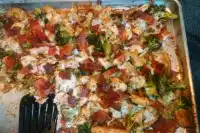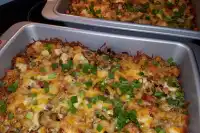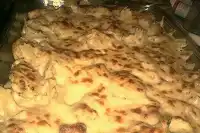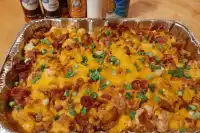 Ready In:

1hr 30mins

Ingredients:

11
directions
Preheat oven to 500 degrees.
In large bowl mix olive oil, salt, pepper, paprika, garlic powder and hot sauce.
Add potatoes to bowl and allow to marinate for 10 minutes.
Using a strainer and another bowl, drain the potatoes. Collect all remaining sauce in one bowl and set aside.
Coat baking dish with cooking spray.
Spread potatoes evenly in baking dish and bake for 45 minutes, stirring every 15 minutes.
Fry bacon and set aside to drain.
Using the bacon grease, brown the chicken cubes and add them to the remaining sauce. Coat the chicken cubes evenly in the sauce.
Once potatoes are done, spread the chicken on top. Bake for 12 minutes.
Crumble the bacon, grate the cheese, and chop the green onions.
Layer the cheese, bacon, and half of the green onions and bake for 3 - 5 minutes more, until the cheese is melted.
Add fresh green onions before serving.
Reviews
It would have been very tasty if the potatoes hadn't burned. 500 degrees is not necessary. I didn't even bake it the full 45 minutes. The oven was so hot that I shut it off before I added the chicken and toppings and they still were done in 9 minutes. I'll make this again but I'll be baking it at 375.

 

Awesome! I made it the first time like the directions said and some of the potatoes burnt (I have a strong oven though) tonight I decided to make it again but in the crockpot! I just mixed the "sauce" and put in the potatoes like it said, added those to the bottom of the crockpot, added a bit of olive oil to the remaining sauce, mixed in the chicken, and layer it on top of the potatoes. Set on low for a few hours and high for the last 1-2 hours. Delish!! Oh, and we didn't use hot sauce, due to the little one :) Love this!

 

Very good recipe, but I had to make a few adjustments. First I doubled the oil to 2/3 cup to have enough for both potatoes and chicken. I sauted my chicken in the bacon grease for about 5-7 minutes so they would be done when cooked in the oven. 15 minutes isn't long enough for the chicken to be well done. And lastley I added the green onions after cooking to add a fresh element. After these few minor changes this recipe was very delicious and a big hit. Definitely will make again.

 
Tweaks
I love the recipe the only things i did differently was temp down to 350 ...500 seemed way too high to begin with.... and next time i would recommend less salt.... the bacon and cheese give it enough salt as it is ....mine came out a little too salty for my taste but next time i will try with less salt and see how it turns out :)