Original Weight Watchers Orange Crumbed Baked Chicken
teresas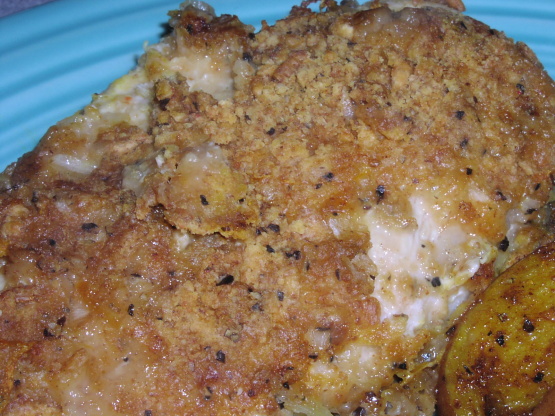 Although another recipe for this has been posted, it has been altered. I found this in the Sacramento Bee and according to them is taken from WW and has not been altered. It is hard to believe this recipe is a low fat dish.

The comment that appears with the original recipe (Weight Watchers New Complete Cookbook) states the following:
"Be sure to use whole-wheat crackers for the coating-they add nutrition in this flavorful dish. If you prefer, substitute lemon juice and zest for the orange".
I haven't made this yet but hope to soon. Thanks for posting and reminding me of this recipe.
Preheat oven to 350 degrees. Spray a nonstick baking sheet with nonstick cooking spray.
In a small bowl, combine the orange juice, mustard and salt. On a sheet of wax paper combine the cracker crumbs, orange zest, shallot, and pepper. Brush the chicken on both sides with the mustard mixture then dredge in the crumbs, firmly pressing the crumbs to coat both sides. Place the chicken on the baking sheet.
Bake 15 minutes, turn over and bake until cooked through. 15 to 20 minutes longer.