Orange White Chocolate Cheesecake
PaulaG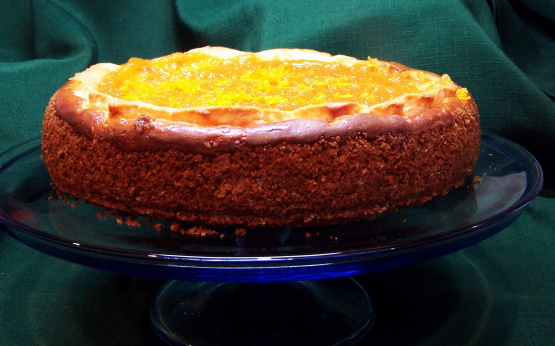 A decadent white chocolate cheesecake with a touch of orange nestled into a graham cracker brown sugar crust with just a hint of cinnamon. Top this off with Apricot Coulis and everyone will be impressed. The use of orange extract will definately produce a stronger orange flavor; however, vanilla can be also be used with satisfactory results. This recipe was developed for RSC #9.------

What a nice cheesecake!! This is the first time that I have ever attempted a cheesecake. I had always heard how difficult and 'touchy' they were to make. Well, that is not the case with this recipe. I followed instructions (almost) exactly, and have a beautiful,perfect cheesecake. The only place I didn't follow instructions were the pan size...I only have a 10-inch springform, so that is what I used. I did alter the coulis, however. I didn't have dried apricots handy, so used some apricot preserves. Based on that substitution, I had to modify the amount of OJ and honey. I still have a nice, lovely apricot sauce for the cheesecake. I am keeping my sauce separate and spooning a few tablesspoons over each piece as I cut it....wonderful.
Preheat oven to 350 degrees.
Combine the graham cracker crumbs, cinnamon and sugar; pour in the melted butter and lightly mix with a fork until thoroughly combined.
Press the mixture into the bottom and up the sides of a 9 inch springform pan; bake in preheated oven for 6 minutes.
Remove from oven and set aside, immediately lower the oven temperature to 325 degrees.
Melt the white chocolate in the top of a double boiler over boiling water, stir constantly until melted; set aside and allow to cool slightly.
With an electric mixer, beat the cream cheese on high speed until creamy.
Add the sugar and continue to beat well, add eggs one at a time, beating after each addition.
Fold in the melted chocolate, sour cream, orange zest and extract.
Pour the mixture into prepared crust and place in 325 degree oven for 1 hour, turn off oven and allow cheesecake to remain in oven with door slightly ajar for 30 minutes.
Remove from oven and place on a wire rack to cool completely.
Cover and place in refrigerator for 8 hours or overnight.
For the apricot coulis, place the apricots, 2/3 cup orange juice and honey in a small saucepan.
Bring to a boil, reduce heat and simmer for 5 to 10 minutes or until apricots are soft.
Place the mixture into a blender and puree until smooth.
Return mixture to pan and stir in Grand Marnier; allow to cool to room temeperature.
If mixture is to thick thin with additional orange juice adding a tablespoon at a time until desired consistency.
Spoon over top of cheesecake, garnish with orange zest and serve immediately.
Please note that the preparation time does not allow for chilling the cheesecake overnight.