Ontario Bean Soup With Basil
Prep 10 mins
Cook 25 mins

I really enjoy my soups and this is a favorite veg soup. Just serve with a nice french stick of bread. Delicious. I got the recipe from "The flavours of Canada by Anita Stewart
Directions
Saute onion in butter for 5 minutes.
Add garlic, potatoes, carrots, and celery.
Saute for 5 minutes.
Add stock, tomatoes, salt, pepper, and basil.
Boil, reduce heat and simmer for 10 minutes.
Add green beans, peas, both beans and pasta.
Simmer for 10 minutes.
Add parsley and serve sprinkled with cheese.
Most Helpful
This was so yummy! Makes a lot of soup, so I think we will be having it again tomorrow which is fine by me. I used 1 Tbsp canola oil in place of the butter and vegetarian chicken stock (McKays chicken seasoning mixed with water) to cut out a lot of saturated fat and remove the cholesterol. I also only used the equivelent of 1 can of each of the beans, because I wanted it to be more soupy. This turned out so delicious and very healthy! Thanks Marlitt! Made for ZWT4 Zingo - Los Jefes de la Cocina!

First of all, I must say that this soup makes A LOT! Second of all, I must say that it is also very tasty, so A LOT of soup goes quickly! I made this exactly as posted and served it with some toasty garlic bread. I will be making this again!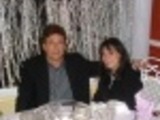 My husband enjoyed this and didn't comment once about it not having meat! He did say that the veggies were a bit more firm than he prefers so maybe next time I'll let it simmer in the crockpot. I used two fresh heirloom tomatoes instead of the canned tomatoes. I skipped the green beans and peas. Used two cans of Great Northern Beans (and no other varieties, tho I was tempted to throw in one can of black beans). Three cans of chicken broth (so approx 5 1/4 cups), a couple handfuls of ditalini pasta. No cheese. I believe those are the only changes due to what was on hand, or not. Many thanks--came across this recipe in an effort to use a quantity of basil without making pesto.