Not So Creamy Cream Of Asparagus Soup
Kiwiwife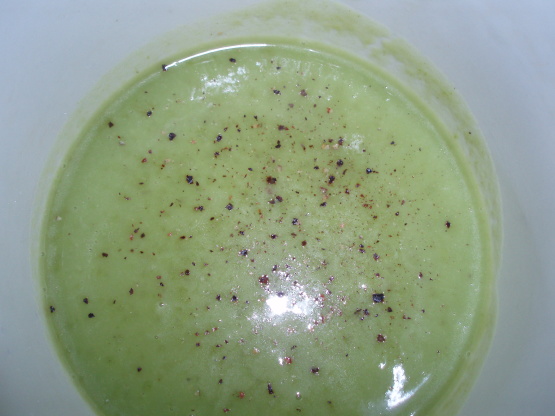 I cannot believe I found this today! I cut it out of our local paper in March of 1988, made it once, we moved, and I never saw it again till this morning. It was in the basement in an old folder. The reason it appealed to me is that the potatoes act as a thickener rather than a lot of cream. And IF I recall, it was very tasty.. There are also 3 others using the same principle, but I never got to try them.(until now!) Cream of Potato, Cream of Mushroom, and Cream of Tomato.
This was absolutely wonderful! I didn't add the lemon, used red potatoes and black pepper because I didn't feel like running to the store in the pouring rain!This soup was real easy to make and has a great texture. I might add more asparagus next time just because I can never get enough. Thanks Mep!
Wash asparagus and trim away outside of woody stalks.
Cut stalks into 1-inch pieces.
Melt margarine in a large saucepan over medium heat; saute asparagus, onion, and potatoes until onion is translucent.
Add chicken broth and water,and bring to a boil.
Turn down the heat and simmer until vegetables are tender, about 20 minutes Place in blender and blend until vegetables are are pureed.
Return to saucepan over low heat.
Stir in white pepper, nutmeg, cream or half-and-half, and lemon juice.
Heat a few minutes longer, but do not allow soup to boil.