loof751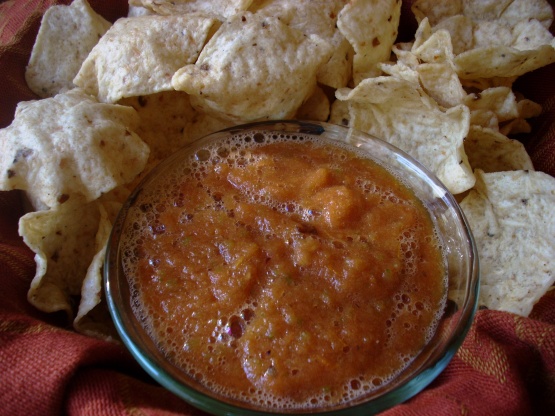 I have loved Ninfa's for a long time. Recently I found a book with handwritten recipes from several Texas area restaurants, so I'm sharing them.

This salsa tastes good, but not like Ninfa's in my opinion. Good though.
1 -2

chiles de arbol

1 -2

dried red pepper, if you can't get chiles de arbol

4

medium tomatoes, halved

4

sprigs cilantro

1

teaspoon salt

1 -2

jalapeno (optional)

1 -2

tablespoon oil (Recipe doesn't specify the type.)
1⁄2 cup tomato sauce (optional)
Place the dried chiles on a cookie sheet and toast in a 325-degree oven for 3 to 4 minutes. Stem and seed them, and then set aside.
In a medium skillet, simmer the tomatoes and garlic, in just enough water to prevent scorching until softened-about 20 minutes. Transfer to a blender and puree along with the cilantro, salt, toasted chiles, and if desired, jalapenos, for 1 to 2 minutes.
Sauté the pureed salsa in a skillet with hot oil for 1 to 2 minutes.
If the salsa is pale, you may wish to add some tomato sauce to deepen the color.
This salsa may be made in advance and either refridgerated or frozen.