Linky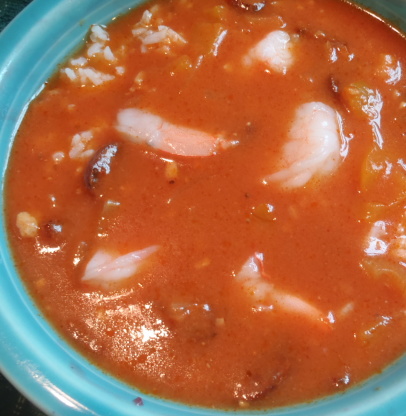 In Louisiana, people make their gumbo so many different ways. It's all about what you like. This recipe is very much like a Shrimp Gumbo. It's easy to make and takes very little effort to make. We consider it a comfort food in my family. Serve with fresh French Bread and a green salad.

Top Review by Linky
This was easy and delish! I used cajun seasoning b/c I don't have creole seasoning. Also, will use a little less water next time, it was more of a soup than a stew. I used pre-cooked frozen shrimp which I thawed, removed the tails and just put into the bowls before I ladled in the soup. Thanks, CK! Made for Spring 2013 PAC
Make a roux by heating oil on medium-high heat in stock pot.
Add flour to hot oil and continually whisk until your roux turn the color of peanut butter.
Add chopped vegetables and stir immediately.
Reduce heat to medium. Allow to cook 3 minutes, while stirring every minute.
Add tomato paste and stir immediately. Allow to cook another 3 minutes, while stirring every minute.
Slowly add 10 cups of water, chicken bouillon and Creole seasoning. Allow to slowly boil for 1 hour. Stir about every 15 minutes.
Add raw shrimp and simmer on medium heat for 15 minutes.
Serve over cooked rice and garnish with 1 to 2 tablespoons chopped green onion in each bowl.