Neiman-Marcus Butter Cake
Karen..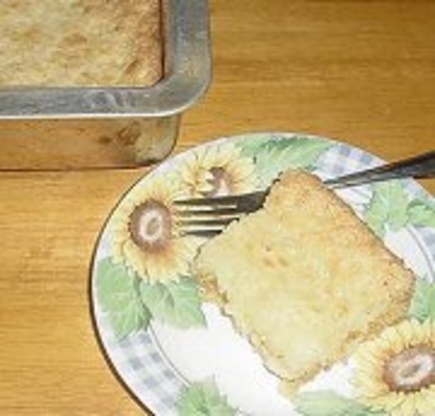 A nice cake to serve guests. If using a glass baking dish, reduce baking temperature to 325 degrees F and keep the same baking time..

Served this to my company last night. Rave reviews from everyone!
Preheat oven to 350ºF.
Grease a 13 x 9 x 2-inch baking pan.
Pour cake mix into mixing bowl.
Mix in 1 slightly beaten egg and butter to a moist dough consistency.
Press mixture evenly in baking pan.
Using electric mixer, beat cream cheese, remaining eggs and vanilla together until creamy.
Beat in sugar gradually, until smooth; this takes several minutes.
Pour cream cheese mixture over dough in baking pan.
Bake 35 to 40 minutes.
Watch carefully so base doesn't get too brown.
The cheese mixture sinks into the center somewhat, leaving a firmer crust around the edges.
Cut into squares to serve.
Some cooks sprinkle powdered sugar or pecans over the top of the baked cake or garnish it with fresh strawberries.