St. Louis Style Gooey Butter Cake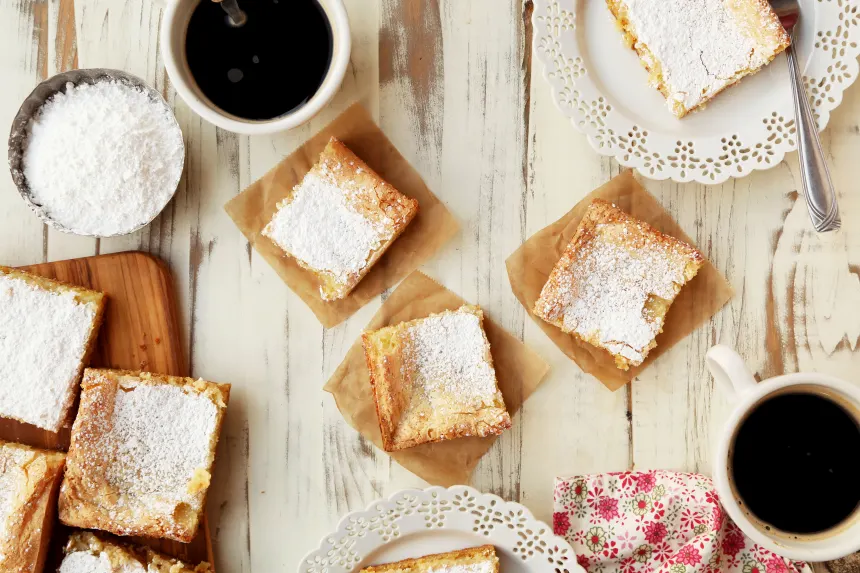 photo by Jonathan Melendez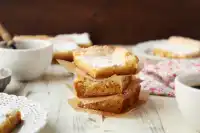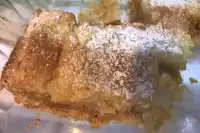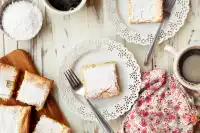 Ready In:

50mins

Ingredients:

6
directions
Preheat oven to 350.
Lightly grease (or spray with Pam) one deep 9x13 rectangular cake pan. I would suggest a 4 in deep pan, as the cake rises when it is cooking, but a oven-safe disposable coffee cake pan from the grocery store would work fine too.
Melt butter. I do this by heating the the microwave on low power for 30 seconds.
Empty cake mix into a large bowl.
Stir melted butter, along with ONE egg, into the cake mix.
PRESS mixture into pan. Mixture will have the consistency of sticky dough. Using a spatula works for me, but pressing with clean fingers will do the trick as well.
In a large bowl, mix cream cheese, almond or vanilla extract, confectioners sugar and the remaining two eggs.
Beat for three minutes with an electric mixer set on medium high speed, or until smooth with NO lumps.
Pour evenly over top of the cake mixture in the pan. Use a spatula to spread.
Place a large cookie sheet on the rack below the cake. Sometimes when you use a cake pan with less depth, the cake bubbles and spills over. The cookie sheet will spare your oven! Bake at 350 for 30-45 minutes until golden brown on top. Cooking time is estimated, you will really have to watch it here! I always take the cake out when it turns a darkish golden brown. Note that there will be a paper thin sugar "crust" that will form while the cake is baking. It the top layer of sugar hardening, and this is what will turn golden brown. It adds great texture!
Allow cake to cool COMPLETELY. This is very important, as the cake will not cut easily until it is completely cool. You will notice that the cake has sunken and set. This is normal. Refrigeration is optional. I personally like it at room temperature.
Dust the top with confectioners' sugar.
Cut cake into bars and serve with or without utensils, but make sure you have plenty of napkins, because this treat will have you licking your fingers! (Cake should be gooey underneath the sugar "crust", so don't over bake!).
Questions & Replies

Reviews
I am from St. Louis and have grown up on Gooey Butter Cakes! This has got to be one of the best recipes for this. I think the vanilla is the magic to it. This is a very sweet cake. I only put 3 1/2 cups of powdered sugar. Next time I will only use three. I did use a 9x13 and placed it on a cookie sheet. It took much longer to cook as I expected but wanted to try it. I took it out when it was golden brown. I would agree with letting it completely cool. Enjoy!

 

This is the same recipe that I used in St. Louis about 35 years ago, at age 10. :-) I am from Affton/Kirkwood/Glendale area & now reside in SE Florida. I lost my recipe & am thankful that you posted. Today I made small tartlets with this recipe & put almond filling & cherry pie filling in the bottom, spooned the cheese mix over the top & added sliced almonds. Baking time is about 20 minutes or so, depending on your oven. I also used Mexican vanilla. It is a great vanilla for baking use. The aluminum cupcake cups with the wax paper liners work great for sharing, once the tartlet is removed from the tartlet pans. I topped off with powdered sugar. The ladies @ the Cookie Exchange party I made them for were all a buzz with curiousity & they went like lightning. This is an excellent recipe and is really easy to make.

 

I have been making this for more than 10 years! Mine is called "Neiman Marcus butter cake, since it is so rich! I use a 13 x 9 x 2 inch glass pan and have never had it spill over! You can easily chance the flavor by changing the type of cake mix and extract! I remember someone changing hers to Lemon and it went over very well! I love it at room temp or slightly warm! And cut it in tiny pieces! People can take more than one! I usually leave it in the pan and let people cut it themselves! This is one of my top favorite recipes!

 
RECIPE SUBMITTED BY
Born in Raised (and rediculously proud) in the wonderful town of St. Louis, Missouri (Fenton area), now living in Las Vegas with my fiance and dogs Nelly and Niña, who love to watch me cook and happily gobble up any fallen food! **Update** Thanks for all the reviews on my take on these tried and true recipes. I really enjoy reading them! Happy cooking!!
View Full Profile