Nana's Favorite Hamburger Gravy
Stacky5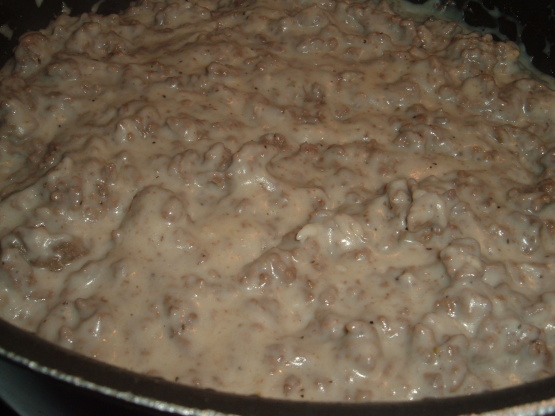 Feel free to add your favorite seasonings such as Lawry's. This isn't the exact recipe but way back when I was a kid my mother who made a lovely tuna casserole [right.. 3 bottles of ketchup spaghetti queen] and my Grandfather had one heck of a fight over the Tuna Casserole or the Hamburger Gravy. Grandfather ate his Hamburger Gravy over saltines that night and Mom MADE me eat the tuna. Didn't help her mood I cried and wanted the Gravy too.

this is a horrible recipe. it has no taste and needed an extraordinary amount of salt to make it taste like anything. I would not recommend that anyone make this. I signed up on this website because i thought that this was bad enough to warn people of its lack of flavor.
Dissolve and mix together: the flour and the milk.
Brown and crumbly ground beef, stirring frequently; drain well.
Add onions and green bell peppers and cook until softened about 5 to 10 minutes. Add salt, water and a mixture of flour and milk. Cook, stirring until thick. Adjust seasonings to your taste.
Serve over hot, cooked mashed potatoes or cooked noodles or cooked rice. Or over saltines or toast.