Nana's Chocolate Chip Brandy Pound Cake
loof751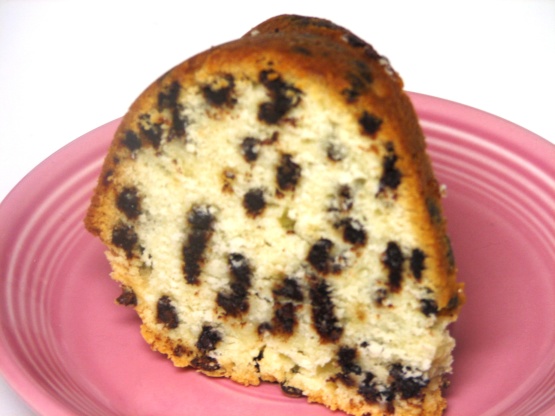 My MIL was a caterer for many years--this is one of her best recipes, and one that all 9 of her grandchildren could not wait to devour!!!

This cake is excellent! I wanted to make a spec treat for my DH who has been so tolerant w/me during ZWT & this was truly spec ... an easy fix w/a lovely dense, moist & rich outcome. The recipe makes a lrg cake & I'll prob halve it next time. I used apricot brandy (just what I had on hand), but didn't notice even a subtle flavour of it. No doubt here - a 5 star standout! Thx for posting.
Preheat the oven to 325 degrees.
Cream the cream cheese and the butter together until light and fluffy.
Add the sugar and cream well.
Add the vanilla and the brandy, mixing well.
Add the eggs one at a time, mixing well each time.
Sift the flour, cornstarch and baking powder together, and fold in the chocolate chips.
Add the dry ingredients/chips to the egg/sugar mixture gradually, mixing well after each addition.
Heavily grease a bundt or a 10 inch tube pan, and pour the cake batter into the pan.
Bake at 325 degrees for 30 minutes.
Reduce the oven heat to 300 degrees and bake for another 1 hour and 20 minutes.