Parsley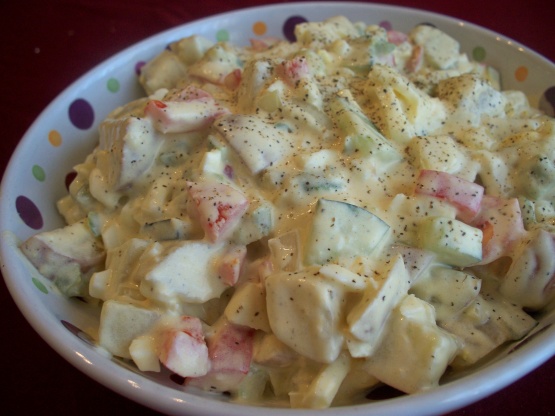 This how my mom makes potato salad and whenever we go somewhere and have to take a dish I am asked to bring this. Thought I would pass it on.

I always mix my dressing ingredients together first before adding to the entire dish. For instance mix the mayo, salt, pepper, horseradish together first in a small dish. If you are usign small pieces of onion and celery too then add that in as well, Then mix all of that with the potatoes. It spreads all of the dressing ingredients better throughout the salad. Tastes better faster. Although it is always better to let it "sit" a bit before serving this helps speed up that process.
Boil potatoes and cut into cubes, cool.
Cut the vegetables and eggs up to whatever size you prefer.
Combine veggies with potatoes and toss.
Add mayo, mustard, horseradish, salt and pepper to taste. Stir.
Better after it has time to "sit".