My Kholodets (Fish Aspic)
kate09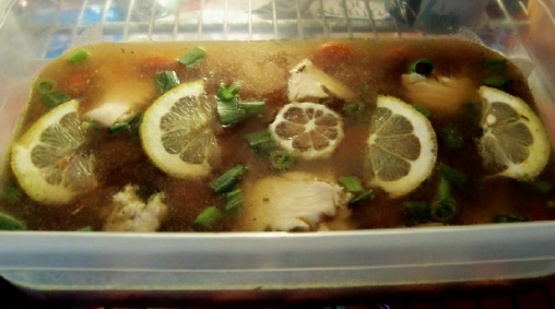 This is a cold dish, jellied fish. It is my version of a Ukrainian dish that is usually made with meat. It is really good served with horseradish sauce. I used Tilapia but any whitefish will work. Cook time is chill time.
Cook tilapia in microwave just until it is just done. Do not overcook or it will fall apart.
Bring 3 cups water to a boil and add the bouillon cubes. Stir to dissolve. Add Worcestershire sauce, pepper, garlic powder, and sugar.
Add the carrots and mushrooms. Cook until done.
Remove vegetables with a slotted spoon and set aside.
Use a cheese cloth or towel to strain the bouillon.
Dissolve the gelatin packets in the bouillon.
Pour 1 cup of bouillon into a rectangular dish and put into the refrigerator until it is semi-set.
Cut tilapia into pieces and arrange on top of the gelatin. Arrange mushrooms and carrot pieces around the fish. Pour the rest of the bouillon over.
Decorate with lemon slices and leek.
Place in refrigerator a few hours until it is set. Serve with horseradish.