Prep 20 mins
Cook 1 hr 12 mins

I got this recipe years ago from The Canadian Living Cookbook
Directions
Place the flour in a bag and add chicken, shake to coat. Reserve flour. In large pan heat oil and brown the chicken and set aside.
Add carrots, onions, celery and apples to pan and cook until soft, add curry powder and cayenne. Sprinkler with reserved flour., stirring for 2 minutes. Gradually stir in chicken stock, return chicken to pot and bring to a boil, reduce heat and simmer 1 hour.
Stir in cram and season with salt and pepper to taste. Heating gently over low heat. Do not boil.
Spoon over rice and garnish with cilantro.
Reviews
Most Helpful
Excellent soup! I was looking for a Mulligatawny that was creamy, to replicate one that I just had at a restaurant. This soup was very good. I used half-n-half since that's what I had on hand, and I kicked the curry powder up by an additional 1/2 tablespoon because my powder wasn't as pungent as many. Also, next time I plan on reserving 1/2 Cup of diced apple for a nice garnish on top in lieu of the cilantro. I love the contrast of crisp fresh tart apples to the hot curry flavors. Lastly, since I had some orzo pasta on hand, I used that in lieu of the rice. Don't think that makes much of a difference though, but it's a unique use. I'm filing this one away and will make again and again. Thanks so much! This really surpassed my expectations and was a huge hit! I made this exactly as posted, buying some chicken cut up for stir-frying, which I further diced. That made things go even quicker! I used 6 cups of chicken stock, Granny Smith apples and brown rice. I also used a little bit more cayenne, which notched up the heat a bit. This was pure comfort in a bowl and something I will be making more often! Made for Spring PAC 2014.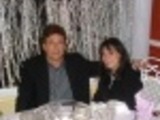 I made this last night while the wind was howling and I loved it! Only made 2 small changes - used quinoa instead of rice because I realized I was all out and I used whipping cream because it's what I had on hand, but I did use less... Next time I would bump up the curry powder to make it a little spicier! Made for PAC Spring '11