Spicy Mulligatawny Soup ( Chicken )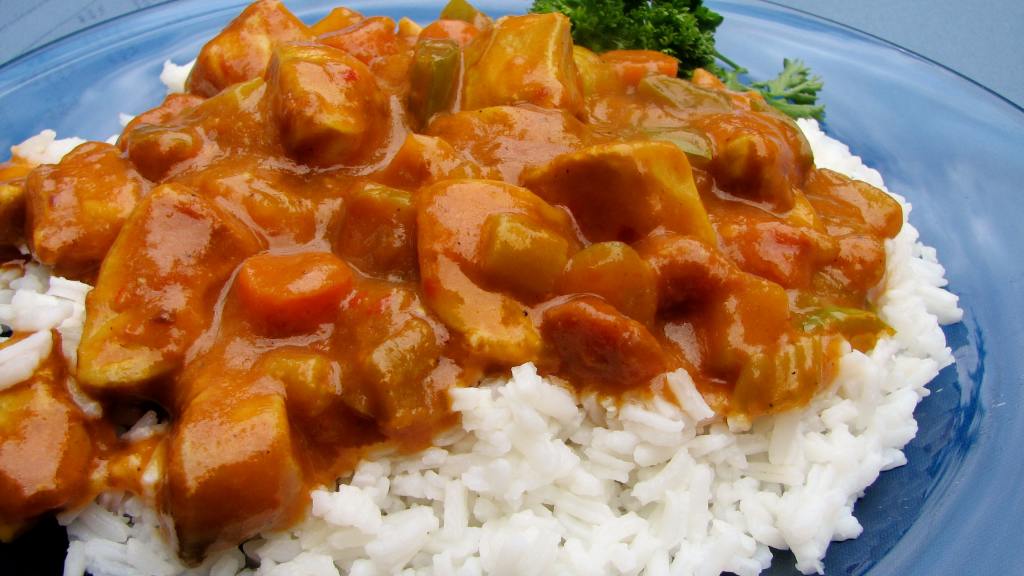 Ready In:

25mins

Ingredients:

16
directions
Chop chicken into small cubes.
Heat 1 teaspoon of oil in a small pan. Add chicken and cook through. Set aside.
Heat 2 teaspoons of oil in a medium pot. Add apple, onion, carrots, celery and bell pepper. Saute for 5 minutes.
Stir in flour, curry powder, ginger, pepper flakes and salt. Cook for 1 minute.
Stir in broth, chutney and tomato paste. Bring to a boil. Reduce heat and simmer for 8 minutes.
Add chicken and cook for 2 minutes until it's heated through.
Sprinkle with parsley or cilantro to serve.
Join The Conversation
I've never tried non-vegetarian Mulligatawny soup before. Every version I've tried in restaurants is vegetarian, some with lentils, most without. This was very good. I had some leftover soup chicken from making stock from bones. Also used a quart of that stock instead of canned. Instead of tomato paste I used 3 medium tomatoes that were on their way out. Last change was to use half the amount of mango chutney because it would have been a little too strong. The advantage of using my own stock is I contolled the salt content completely. Bear in mind this is a soup, the photo shows it served over rice. You can always add more broth to ensure it's not quite so thick. My addition of the tomatoes and 4 ounces additional stock made the difference. As a soup, serve with naan or a couple of samosas and coconut chutney!

I've never tried non-vegetarian Mulligatawny soup before. Every version I've tried in restaurants is vegetarian, some with lentils, most without. This was very good. I had some leftover soup chicken from making stock from bones. Also used a quart of that stock instead of canned. Instead of tomato paste I used 3 medium tomatoes that were on their way out. Last change was to use half the amount of mango chutney because it would have been a little too strong. The advantage of using my own stock is I contolled the salt content completely. Bear in mind this is a soup, the photo shows it served over rice. You can always add more broth to ensure it's not quite so thick. My addition of the tomatoes and 4 ounces additional stock made the difference. As a soup, serve with naan or a couple of samosas and coconut chutney!

I love curry and this was delicious! I followed pretty much to the T, just added a little bit more of each veggie and 3/4 lb chicken. I also added 1 tsp turmeric and extra chutney. I will be making this again and again! I think raisins would be a really nice addition and will add them next time! Thank you for posting this.

This was the first curry I ever made!! It was so gooood =) I loved it, it was a wonderful valentines dinner. I added probably to much chicken, so I added a little more of everything else. I added one small can of tomato paste, which I am not sure if that was a lot more than i should have, but next time I wont add any ..or just a teaspoon. It tasted 110% without the paste, but about 108% with. Thanks for the 5 star recipe =)