Moroccan Seafood and Broccoli Salad
Annacia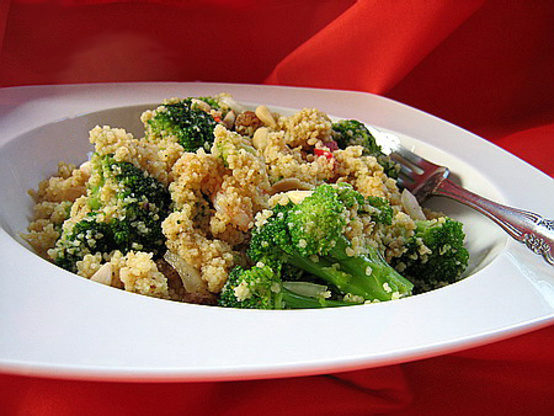 Modified version of a Jane Brody recipe. You can substitute sliced surimi sticks for the shrimp or scallops but, if you do so, do not add until salad has been dressed and tossed or the surimi will shred. Cooking (passive) time also includes chilling time.

Top Review by MamaJ
This was outstanding! I used the optional currants and the pine nuts and would definitely recommend adding them. I also used the surimi (because I had it on hand) but would probably use shrimp the next time. I liked this warm and think it would make a great side dish--with or without the seafood. It was also great chilled and I think it would even taste great with shredded chicken. Next time I will cut my florets a little smaller (so I can more flavors in one bite). This was a very colorful dish with a lovely presentation. Thanks for posting echo echo
Steam broccoli 5 minutes, drain and refresh under cold running water; place in large bowl.
Add scallions through seafood.
Bring the chicken broth to a boil in a medium saucepan. Add the couscous, parsley and thyme, and cook 30 seconds; remove pan from heat, cover tightly and let stand 5 minutes.
Make dressing: Whisk the seasonings into the lemon juice; gradually mix oil into the lemon juice until emulsified.
Add the couscous, while still hot, to the vegetable mixture; add the dressing and toss to combine well.
Chill at least 1 hour.
Sprinkle with chopped pecans, pine nuts or other nuts of your choice before serving.