Prep 10 mins
Cook 40 mins

This Moroccan Orange Cake Recipe is quick and easy to make, and delicious without frosting. One very large orange, or two medium oranges, should yield the half cup of fresh orange juice used in the recipe. Just for fun, I've listed the traditional measures used in Morocco which had to go in the directions since Zaar wouldn't accept "tea glasses". You might want to follow that method if you're baking with kids. Please note that tea glasses usually hold 4 to 6 ounces of liquid. I guessed at the serving size. Posted for ZAAR World Tour 2010 and thanks to my good friend Carrol for finding it for me. As an update finally had time to make this, specially after reading all the nice reivews. I did follow a reviewers report and reduced the sugar to 1 cup to cut back a little. Baked in a loaf pan as that's all I had. Then added a glaze that I made with fresh oj instead of milk and everyone loved it. Came out moist, sweet and simalar texture to a pound cake. It was enjoyed by all and hope you enjoy it too.
Directions
Preheat your oven to 350° F (180° C). Grease and flour a tube pan. If using fresh oranges, zest and juice them.
With an electric mixer or by hand, beat together the eggs and sugar until thick. Gradually beat in the oil.
Stir in the flour, baking powder and salt, and then the orange juice. Beat until smooth, and then mix in the zest and vanilla.
Pour the batter into your prepared pan, and bake for about 40 minutes, or until the cake tests done.
Allow the cake to cool in the pan for 7 to 10 minutes, then turn out onto a rack to finish cooling.
Here's the orginal MOROCCAN MEASUREMENTS:.
4 eggs.
1 soup bowl of sugar.
1 tea glass of vegetable oil.
1 soup bowl of flour.
2 sachets of baking powder.
pinch of salt.
1 tea glass of fresh orange juice.
zest from 1 or 2 oranges.
1 sachet of vanilla sugar.
Reviews
Most Helpful
This is a great recipe - light fluffy cake - just one thing you need to stir in the orange zest manually otherwise gets stuck on the mixure blades.

To make it xtra special when it comes out hot tip it upside down on a plate and pour some orange liquer on it - tip it the right way up between two plates and add orange liquer to it again - it must be hot when you do this - straight out of the oven - this makes this cake really yummy!!!!!
This is a lovely, refreshing not-too-sweet cake that I think I need to tweak a bit. Although I made this exactly as posted, the result was somewhat flawed. While the cake was cooking, it rose nicely (I kept spying on it through the oven door). However, towards the end, the cake completely sunk. In order for the cake to test done, I had to bake it for the full 40 minutes, which ultimately produced a dry cake. However, when I sliced the cake, it had a hole running completely through it (like a tunnel). The taste is wonderful, though, and I can see this recipe has a lot of potential. I think ingredient measurements probably need adjusting. Made for ZWT6 Zingo.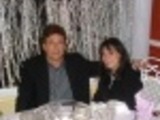 10/10 . So moist so delightful. Thanks for such a great recipe.