Moroccan Lentil & Vegetable Soup
Maito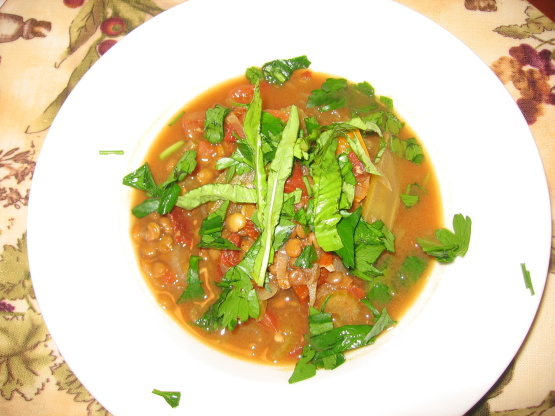 Not only does this taste good it's very healthy. This recipe is from a diabetic cook book. Lots of vegetable, and because the lentils are high in soluble fiber this is a good recipe to lower blood cholesterol.

Easy to make and pretty good.
Heat oil in medium saucepan over medium heat.
Add onion and garlic; cook 4 to 5 minutes or until onion is tender, stirring occasionally.
Stir in lentils, coriander, cumin, black pepper and cinnamon; cook 2 minutes.
Add chicken broth, celery and sun-dried tomatoes; bring to a boil over high heat. Reduce heat to low; simmer, covered 25 minutes.
Stir in squash, bell pepper and parsley. Continue cooking covered 10 minutes or until lentils are tender.
Top with plum tomatoes and cilantro just before serving.