Moroccan Lentil and Chickpea Soup
Prep 5 mins
Cook 1 hr 5 mins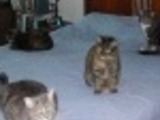 One of the best vegetable soups I've had in ages! Extremely easy to make and very cheap (leave out the saffron if you don't already have any)! This lemony, peppery soup is traditionally enjoyed at the end of a day of fasting during the Muslim holy month of Ramadan. This is a vegetarian version of the thick and aromatic soup. More like a stew. From the 2/2007 issue of Canadian House & Home.
Directions
In large heavy saucepan or dutch oven, melt butter over medium heat. Stir in onion and celery and cook, covered, for 7-10 minutes or until onion is tender, stirring occasionally.
Add cinnamon, turmeric, salt, pepper, ginger, hot pepper sauce and saffron. Cook, stirring, for 2 minutes. Add tomatoes, lentils, chickpeas and broth. Bring to boil, reduce heat, and simmer, covered, for about 40 minutes or until lentils are tender.
Stir in noodles and simmer, covered, about 7 minutes longer or until noddles are just tender. In bowl, whisk flour, and 1 cup water until smooth. Whisk flour mixture into soup and simmer, stirring often, for 2-4 minutes or until soup is thickened and no raw flour taste remains.
Stir in half of the parsley and cilantro, and all of the lemon juice. Taste and adjust seasoning, adding up to 1/2 tsp more salt if needed. Garnish with remaining parsley and cilantro.
Most Helpful
Loved this soup! I didn't use the saffron or fresh herbs. I ate leftovers at work for two days and my coworker wanted the recipe because it smelled so good. She made it that night and agreed it was fantastic. We both thought the lemon juice really brought the flavors of the soup together. Will definitely be making this again!
This was good. Easily made vegan by replacing the butter with EVOO. I like a thick soup, so I left out the water, and mixed the flour with 1/2 cup of the hot broth. Used the orzo, otherwise followed to a T. Surprisingly we found the lemon juice rather overpowering. Confusing given the small amount! I would cut it back to half, taste it and then add to your liking. On the other hand I'm sure it will all meld over night and it won't be as strong as leftovers tomorrow. Nice fiber and protein punch here. very filling meal!

This is a relatively easy recipe to make. Very satisfying, healthy food.