Moroccan Beef and Honey Tagine
Baz231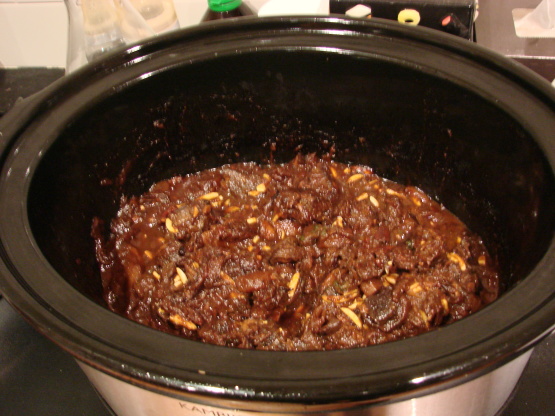 This is virtually the same recipe as French Tart's #1919460, (so I'm not claiming it as my own!) Having cooked it several times with a slightly smaller quantity, I've changed the quantities of ingredients just a little over time to suit the smaller size and my taste (and the fact that I can't find a 9 ounce tin of tomatoes). Also, to save confusing myself when using the Recipezaar conversion, I've done it in metric.

I didn't have a tagine or crock pot, but it didn't matter. The beef turned out really well. I love the combination of prunes, meat, tomatoes and honey. I will definitely prepare this again.
Heat half the olive oil in a large pan or wok and quickly brown the onion quarters over a high heat until charred and coloured well. (Break them up as you're doing this.).
Add the carrots and the chopped garlic and stir fry for another 3 minutes. Tip carrots and onions into the tagine (or crock pot).
Add the tinned tomatoes, dates and prunes to the tagine/crock pot and mix well.
Add the honey and ras el hanout to the beef stock, stir well and add to the tagine/crock pot. Mix well, then add the cinnamon stick.
Heat the remaining olive oil in the same pan in which the onions were cooked and cook the beef cubes in small batches over high heat to sear and seal them. As each batch is browned, add the beef to the tagine or crock pot.
When all the beef is browned and in the tagine or crock pot, season with salt and pepper to taste. Ensure everything is just covered with the stock (if not add a little water). Mix well and slow cook for about 9 hours.
When ready to serve, garnish with fresh coriander and toasted almonds.
Serve on fluffy cous cous.