Miniature Cranberry Muffins
Redsie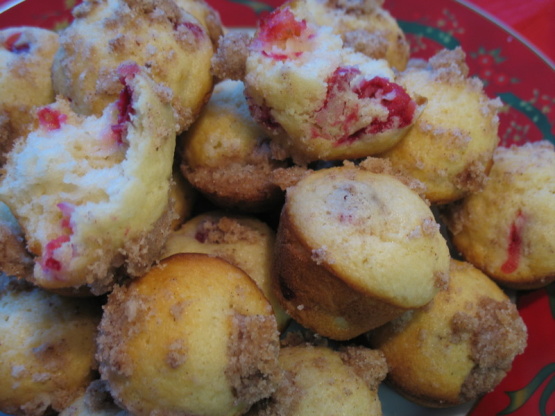 This recipe will give you approximately 40-45 of the most wonderful moist little muffins, mini chocolate chips or grated semi-sweet chocolate can be replaced for the chopped cranberries.

These turned out so wonderful, but I did change a few things. *1st~ Used Organic French Vanilla fat free yogurt instead of buttermilk. *2nd~ Used baking soda instead of baking powder because of the acid from the yogurt. *3rd~ Left out the vegetable oil *4th~ Only used 6 Tablespoons butter in the muffins mix and the 2 Tablespoons in the topping. *5th~ Used 1 egg instead of 2 (The reason I made these changes was because I was out of the ingredients the recipe called for) Yesterday I made this recipe as muffins but today I made the recipe into a cake and frosted it with orange icing. I will be using this recipe again!! THANKS!
Set oven to 350 degrees.
Grease 45 mini muffin tins or line with mini paper liners.
For the topping; mix all ingredients together until blended; set aside.
Place all muffin ingredienrs except the cranberried in a food processor; PULSE 5 times.
Add in the cranberries and process until just mixed.
Fill greased or paper-lined tins about two-thirds full, then sprinkle with prepared topping.
Bake for about 12-15 minutes for mini muffins.
Bake 20 minutes for regular-size muffins.