Mimi's Maryland Crab Cakes
2Bleu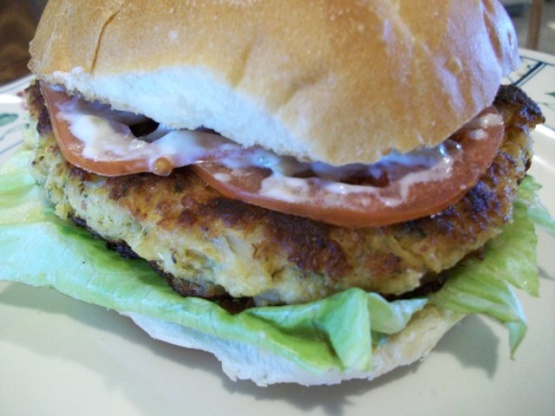 This is my mom's (Mimi's) crab cake recipe, and I think it's the best! She originally came to Florida from Baltimore, and they know their crab cakes there! This might even be an Old Bay recipe, I don't know. I like to make these and my potato salad and Mimi's baked beans for "special" occasions. Mimi used to serve her crab cakes with her coleslaw as a side dish. This recipe makes 8-10 cakes depending on the size.

After looking at all the recipes for crabcakes on 'Zaar, I decided to try this one with a few changes. After mixing as directed I didn't think the mixture was wet enough to stay together for broiling so I added about 1/4 cup more mayo and another teaspoon of Old Bay. Broiled them for 15-20 minutes on high and drizzled them with melted butter just before serving. They were very good and I would certainly make them again. I did not have Italian style breadcrumbs so I used homemade soft breadcrumbs. My dinner company said they were 'crabcakes to die for'! Thanks!
Mix all ingredients (except canola oil) together and shape into cakes (about 8-10).
In large skillet, heat canola oil over medium heat.
Add cakes and cook, turning once, until brown (~3 to 5 minutes per side).
Drain well on absorbent paper.
Serve with tartar sauce or Dijon mustard, or make crab cake sandwiches with lettuce & tomato.