Microwave Brownie Lava Cake
Kathy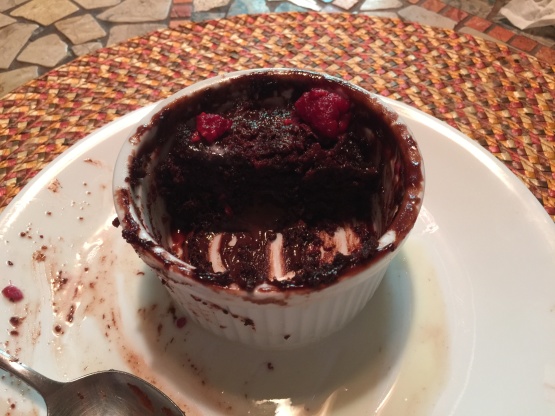 This is about the yummiest dessert and it is so easy, but seems so decadent. I've tried various chocolate candies to melt in the center, but have found that Dove Dark Chocolate Promise candy pieces are the best--they melt the best and aren't absorbed into the batter, not to mention they are just so delicious! Note that the ingredient list below automatically changed Dove to doves--you won't add actual doves, but the chocolate kind. Bake these in individual custard cups or mason jars. A friend gave me this recipe and she said she got it from theyummylife.com.

Top Review by Kathy
I made this tonight for my husband's birthday. OH...MY...GOODNESS....talk about yummy!!! I could only eat half of mine but hubby are all of his. We started eating before I could take a picture so I'm uploading my half-eaten serving. I love how easy it is to make. I served it with raspberries and vanilla frozen yogurt. Thanks for sharing!
1

(20 ounce) package brownie mix (family size for 9X13 pan)

2

eggs (or as called for by your brownie mix)
1⁄3 cup oil (or as called for by your brownie mix)
1⁄4 cup water (or as called for by your brownie mix)

1

large egg

16

(1/3 ounce) dove promises dark chocolate candies
whipped cream (optional) or vanilla ice cream (optional)
raspberries (to garnish) (optional) or strawberry (to garnish) (optional)
Empty brownie mix into large bowl.
Whisk to remove large lumps.
Coat 8 (6 oz.) custard cups with cooking spray.
Add a small amount of dry brownie mix to each cup and rotate cups until completely coated and set aside.
In separate bowl, whisk together wet ingredients called for in brownie mix instructions (usually oil, water, eggs), plus 1 additional egg.
Add wet ingredients to brownie mix and stir until well combined.
Add 1/2 cup batter to each custard cup.
Stack two Dove candies and press them down into the center of the batter.
Spoon batter over candy so it is completely covered.
Place in microwave and cook at full power for 1 minute for 1 cake (microwave power and times may vary).
May cook up to 4 cakes at one time, adding 1/2 minute to cooking time for each additional cake.
To remove cake from bowl: Run a thin knife around the edge of the cooked cake. Place a small plate on top of the cake cup. Flip the plate and bowl over, so the cake is inverted on top of the plate. Gently lift the bowl, leaving the inverted cake on the plate. Serve with whipped cream or ice cream; garnish with berries.
Cakes may also be eaten directly from the custard cup they are cooked in (without inverting them on a plate). May also be cooked and served in half-pint mason jars. If eating cakes directly from bowl or jar, it isn't necessary to spray or coat them before adding batter and cooking.
MAKE AHEAD: Batter may be mixed and added with chocolate pieces to custard cups or jars in advance. Cover and refrigerate up to a week. Remove from refrigerator and warm to room temperature 30 minutes before cooking.