Mexican Zucchini and Corn Burrito
Prep 10 mins
Cook 20 mins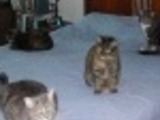 A most refreshing low-cal burrito. BF found this on an Australian website, and he changed it a bit and stuffed it into a tortilla. Not a burrito you want to eat with your hands, but really, really good. We used the low-fat substitutions. The filling alone makes a terrific side dish.
Directions
Heat oil in a 10-inch skillet over medium heat. Cook onion in oil, stirring occasionally, until tender. Stir in zucchini. Cook 1 minute stirring occasionally.
Stir in remaining ingredients. Heat to boiling; reduce heat, cover and simmer about 15 minutes or until zucchini is tender.
Divide evenly among tortillas. Top with cheddar, salsa and yogurt. Wrap and serve immediately with hot sauce on the side.
Most Helpful
Love this recipe! I added a few odds and end that were in the fridge and needed to be used up, sliced black olives, minced jalapeno, two chopped breakfast sausages and pepper jack cheese instead of cheddar. So versatile and delicious, light but satisfying. Thanks for posting the recipe, I'll be making this often.

This was a tasty vegetarian dish that wasn't too hard on the pocketbook, either. We've been trying to use more seasonal local fresh veggies so this was the perfect recipe. I did not have any corn (which is odd), so I substituted pinto beans and we used the mild Rotel because our toddler was eating it, also. The only thing I adjusted was that I added chili powder, cumin, marjoram and garlic powder to get some more flavor into the mix since all I could taste was the pepper from the Rotel. It turned out well and tasted great with the suggested toppings. Thank you for posting. We will make this again before zucchini is out of season.

This was soooo good!! It tastes so fresh and healthy. I made as your recipe states and used Rotel for the canned tomatos. (Rotel is a brand of tomatoes/jalepeno) I drained it first so this wouldn't be so runny. I used a little cheddar in mine to help stick things together. You are right, the veggies would make a delicious side dish on their own.