Mexican Fiesta Green Chile Cornbread
WiGal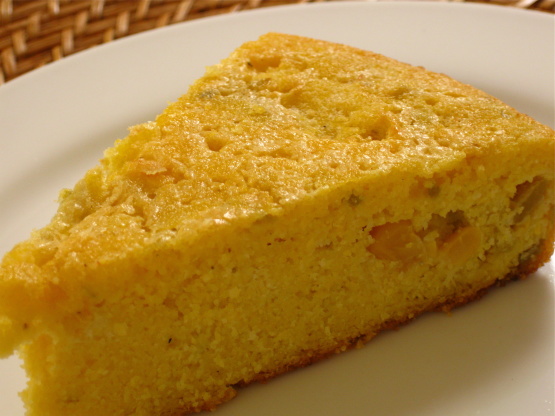 I made this to go with my vegetarian chili tonight and really enjoyed it! This cornbread has a soft, almost custard like texture. Yum! Adapted from The Everyday Fiesta Cookbook.

I practically swooned over this cornbread! It was a total "comfort food," with its custard like filling and with the slight crunch of the bottom crust. I baked in a cast iron pan. I omitted the green onions and used reg. frozen corn (pureed with a bit of cottage cheese) for the creamed corn. I broiled it for a few minutes at the end. This reminded me of an exceptional polenta, and I have all sorts of ways in mind to use this recipe (polenta lasagna, etc.). Thanks so much Sharon. This is a REAL FIND!
Roxygirl
Preheat oven to 350*F.
Heat the oil in a 9-10 inch cast iron skillet or baking pan in oven.
In a large bowl, sift cornmeal, flour, baking powder, sugar and salt. Add remaining ingredients to the bowl; stir mixture together.
Remove the hot pan from the oven; pour in batter.
Bake 25 minutes or until the cornbread is golden brown and the edges begin to pull away from the sides of the pan.
Cool 5 minutes before cutting.
Enjoy!