Mexican Chicken Soup With Cilantro-Chile Cream
Gina K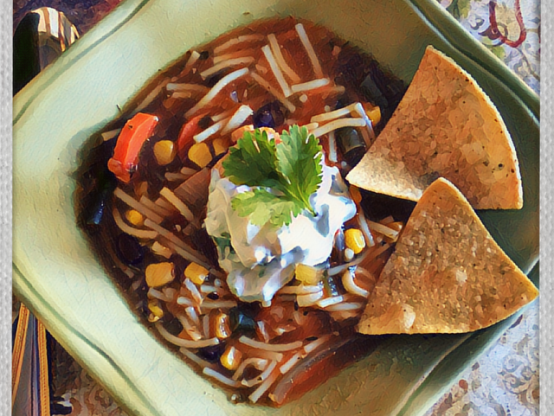 I printed this off Ortega's web-site. The creator was a finalist in their 2002 cooking contest. It is REALLY good and really easy. My additions are a can of hominy (because I love it!) and shredded Monty Jack to top the soup. Great with tortilla chips!

I am not normally a soup eater, but this was very hearty and had a great taste. I made exactly as the recipe directs, although I'm sure I added more chicken. The soup has plenty of character and robust flavor on its own; the cilantro-chile sour cream gives it a richness and extra zip that everyone enjoyed. This will definately be made over and over in our house. Thanks for posting.
Combine chicken broth,water and garlic in a large saucepan: bring to a boil.
Add salsa,rice,oregano,and salt.
Cover- reduce heat to low; cook for 15 minutes,stirring occasionally.
Add chicken,beans,corn and chilies; continue cooking for 5 minutes or until heated through.
Serve in soup bowls; top each serving with a dollop of cilantro-chile cream.
CILANTRO-CHILE CREAM: Combine the sour cream,diced chilies,cilantro and lime juice in a small bowl.