Mediterranean Chicken and Potato Salad
flower7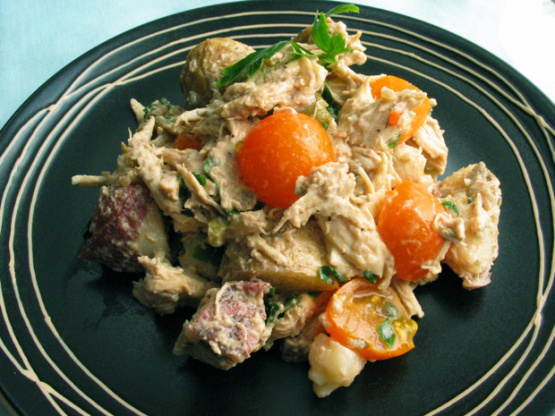 This recipe has the flavorings of a traditional Italian salsa verde. It should be made at least 20 minutes (up to 1 day) in advance of serving to allow the flavors to develop and meld. From "Eating Well" magazine.

Excellent salad! I picked up some red and yellow new potatoes and yellow cherry tomatoes at the farmer's market this weekend and along with leftover chicken from a deli rotisserie chicken (breasts only), I had everything to make this except anchovies. I added a dash of Worcestershire sauce in place of the anchovy (probably could have used more). The directions mentioned yogurt but it wasn't in the ingredient list so I searched online for the original Eating Well recipe and found it should be 1/3 cup nonfat plain yogurt (I used Greek yogurt.) I added an extra handful of tomatoes because they were so good with this :) I thought it could use a little extra salt but that could be a result of not using the anchovy. Thanks for sharing Kitty!
Cut the chicken into 1/2 inch cubes or shred, depending on your preference; set aside in refrigerator.
Rough chop the garlic and anchovy on a cutting board; sprinkle with salt and mash into a paste with the side of your knife.
Add paste to a small bowl, and whisk together with parsley, yogurt, mayonnaise, olives, capers, vinegar, mustard, and pepper to form the dressing.
Place chicken, potatoes, and tomatoes in a large bowl, add the yogurt dressing, and toss gently to combine.
Let rest 20 minutes to allow flavors to develop and meld.