Annacia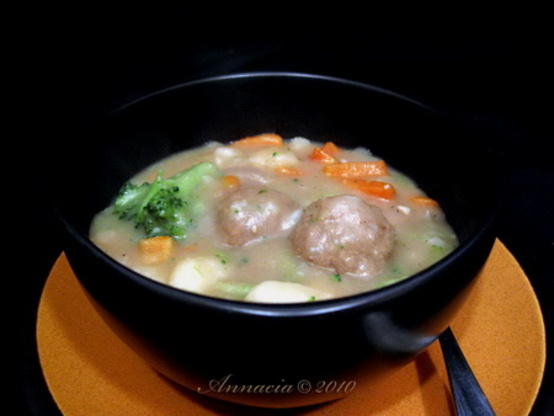 A recipe I took from a recipe book of different countries and this one is from Canada. My mother did it a few times and it's delicious.

We really liked this.
I added a few carrots to the mix, to make it a one pot wonder, and a little extra stock, that I added a few gravy granules to add the end of cooking time, just to thicken it a little ( the kids like a thicker gravy).
The meatballs had a wonderful texture, and the whole dish tasted great. Real comfort food, made easy.
Made for PRMR.
Blend pork, breadcrumbs, eggs, water, mustard, salt, pepper, cloves, cinnamon, nutmeg in a bowl.
Shape into meatballs of 1 inch of diameter.
Heat the butter or olive oil to high heat in a casserole and seal the meatballs on all their sides.
Lower the heat to medium. Add the onions and garlic.
Stir and keep on cooking 3 minutes.
Incorporate flour and keep on cooking 2 minutes, stirring constantly.
Pour the beef stock. Stir well.
Cover and let simmer 45 minutes.
Add the potatoes and keep on cooking 15 minutes , covered partially.