Boomette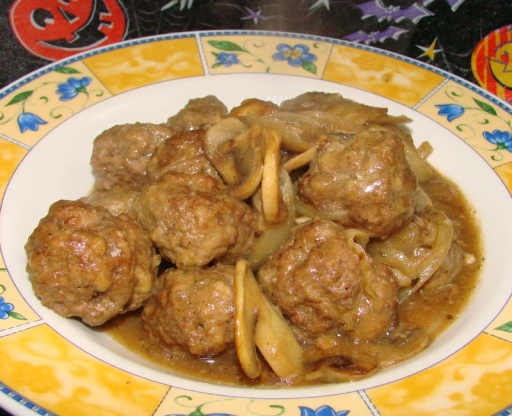 This is such a delicious and comforting meal. It is really very easy and I recommend making the meatballs rather than using frozen ones. I like to serve buttered noodles as a side or over mashed potatoes! Recipe is from Family Circle.

What a delicious meal! My husband and I really enjoyed this very much. I served it over mashed potatoes and it was the definition of comfort food. The "gravy" didn't really thicken up that much for me, but it just mixed in with the potatoes and didn't matter. I'm excited for the leftovers tomorrow for lunch! Thanks so much for posting this keeper!
Heat oven to 350 degrees; place a rack on a baking sheet and coat with nonstick cooking spray.
In large bowl, mix ground beef, egg, bread crumbs, garlic salt, 1/2 t Italian seasoning, 1/4 teaspoon of the black pepper.
Form into 40 meatballs, about 1 level tablespoon each.
Place on prepared rack over baking sheet.
Bake meatballs at 350 degrees for 20 minutes.
Meanwhile, heat olive oil in a large nonstick skillet over medium-high heat.
Add onion and mushrooms and cook 6-7 minutes, stirring occasionally or until lightly browned.
Sprinkle flour over the mixture, stir and cook 1 minute.
Gradually stir in beef broth until flour is completely incorporated into the liquid.
Bring to a simmer.
Stir in the remaining 1/2 t Italian seasoning, 1/4 t pepper and the nutmeg.
Add salt to taste.
Add meatballs to the skillet and reduce heat to medium low.
Cover and simmer for 10 minutes, stirring occasionally.
Serve with buttered egg noodles, if desired.