Meatball Sub Sandwich Casserole
MA HIKER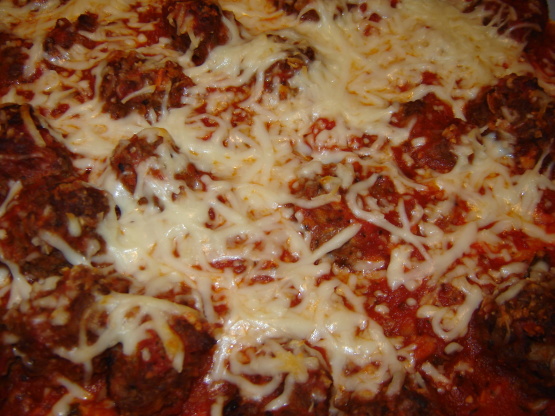 Winter supper at its best! Comfort food with a tantalizing sauce & lovely meatballs. Get the kids in on the act, rolling meatballs is fun and gooshy (okay, everyone, "Wash your hands first!"). Thanks to Taste of Home's Quick Cooking 2000 year book for their inspiration.

Delicious! I first tasted this casserole after our daughter was born-my sister made it for us. I kept forgetting to get the recipe, so I looked it up on here. This is pretty close to what she made! I halved it since it was just the two of us. However, I didn't halve the meatballs and I think it was a good amount. I happened to make two French bread loaves a few weeks ago, so I just pulled one of those out of the freezer and used half of it. Comfort food at its finest!
1⁄3 cup chopped onion
1⁄4 cup breadcrumbs or 1⁄4 cup crushed saltine

3

tablespoons parmesan cheese, grated

1

lb ground beef or 1 lb ground venison

1

loaf Italian bread, 1-inch cubes (1 lb loaf)

1

(8 ounce) package cream cheese, softened
1⁄2 cup mayonnaise (no substitutes)

1

teaspoon mixed Italian herbs (basil, oregano...)
salt & pepper

2

cups shredded mozzarella cheese (divided)

1

quart spaghetti sauce (or 28 oz can)

1

cup water

4

garlic cloves, minced (or pressed)
Preheat oven to 400.
In a bowl, combine onions, crumbs & cheese; add beef and mix well.
Shape beef into 1-inch balls; place on rimmed cookie sheet; bake for 15-20 minutes (no longer pink in center); turn oven down to 350.
Meanwhile, arrange bread cubes in an UNgreased 13x9 pan.
Combine cream cheese, mayo, seasonings, and S&P; spread over bread.
Sprinkle one cup Mozzarella cheese over the cream-cheese mixture layer.
Combine sauce, water & garlic; add meatballs and gently mix; pour this over the cheese layer.
Sprinkle remaining Mozzarella.
Bake (uncovered) at 350 for 30 minutes (top will be bubbly and quite fragrant).
OPTIONS: Use half Cheddar and half Mozzarella; try some sliced black olives; sprinkle some grated zucchini in for added nutritional value (and get a few veggies past the kids!--it's the secret ingredient).