Faith T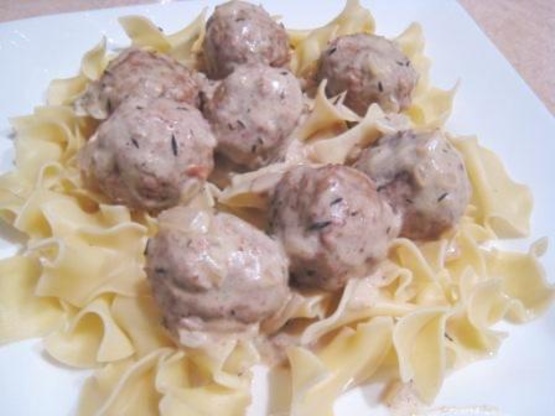 This is an easy, delicious recipe for weeknight meals. Use one batch of Make-Ahead Meatballs, frozen meatballs from the supermarket or substitute your own meatball recipe. Serve with egg noodles or mashed potatoes.
The family loved this. I ended up doubling the ingredients to make the sauce since there wasn't very much and we usually eat stroganoff over rice. The flavors were excellent; I think it was the dijon mustard that made it stand out.
In a large skillet, heat the oil over medium heat.
Cook the onion, mushrooms and thyme, stirring occasionally, until tender and the liquid is evaporated, about 8 minutes.
Stir in the beef broth and mustard and bring to a boil.
Reduce the heat and simmer for 5 minutes.
In a small bowl, whisk together the sour cream, 1 tablespoon water and the cornstarch.
Whisk into the sauce.
Add the meatballs and simmer until the sauce is thickened, about 2 minutes.