Derf2440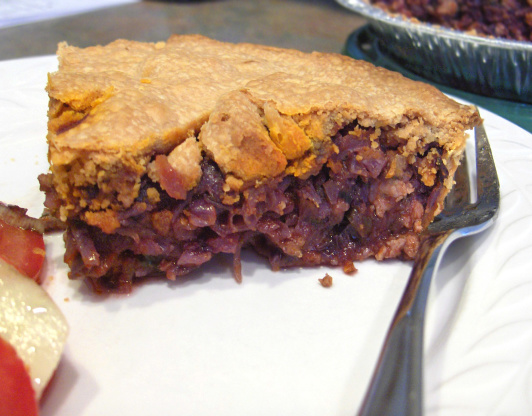 Diabetes was new to our household so this is one of the many we tried that the whole family now enjoys.The portions have been adapted to accomodate a family but can be halved for a single pie.Original from "Make a Joyful Table,main dishes to delight the soul."The premade shells are a time saver and a great help for those who are "pastry challenged"If you want to cut down the fat you can make the pies deep dish with only a top crust.

This is a wonderful savoury pie!! The taste is not cabbage, in fact it's hard to believe all that cabbage is in there!! The combination of flavours is outstanding. A real keeper that will be made often in this diabetic home!! Thanks Krissy-P!! Sept 2008 - Made this for the "Beyond Burgers" event, had forgotten how delicious it is, YUM!! This time I used ground turkey and added one small chopped jalepino, and followed the recipe as written, am going to have to make this more often, still can't believe the flavour, you hardly know there is cabbage in it.!! Just made one pie, half a recipe, worked just fine.
Preheat oven to 350 degrees.
Take pie shells out of boxes to thaw.
Meanwhile,spray a large skillet with butter flavoured cooking spray, brown the meat and onion.
Stir in the cabbage.
Add tomato sauce, Brown Sugar Twin,parsley, and black pepper.
Lower heat and simmer 15 minutes.
Put half of mixture into one of the pie shells and wet the top edge of the shell.
Pick up a second shell,invert the tray while putting your hand underneath touching the pastry to support the shell as it comes away from the tray.
Lay second shell directly on top of of mixture in first shell.
Use damp fingers to seal two shells together.
Flute edges.
Make about 8 slashes on top to allow steam to escape.
Repeat filling the third shell and covering with the fourth shell.
Check to see that your edges are sealed and for the steam vents.
Bake for 30-40 minutes or until crust is golden brown.
Place pie plate on wire rack and let set for 5 minutes.
Cut into 8 servings.