ImPat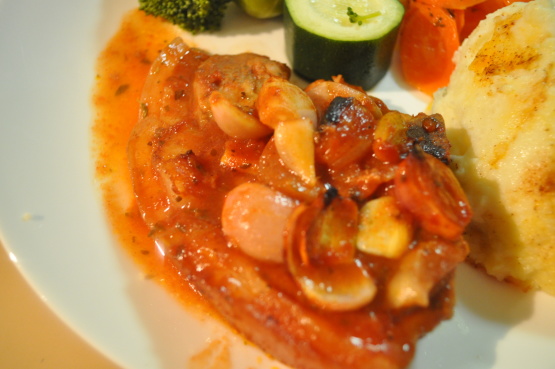 Did these for supper tonight, quite a nice tang. The sauce is particularly good, with baked potatoes and steamed broccoli. Can easily be made less for 2 or 4 chops.

Great recipe! I was a little pressed for time, so instead of baking the pork chops, I grilled them instead. I marinated them about 8 hours. No "sauce" is left when you grill them, but the chops came out juicy and tasty anyway...
Trim fat from pork chops.
Place in single layer in 13 x 9 inch baking dish.
In bowl, combine chili sauce,shallots,garlic, vinegar, sugar, Worcestershire sauce, chili powder, mustard and oregano, Pour over chops.
Cover and marinate in refrigerator for at least 1 hour or for up to 8 hours.
Cover and bake in 350°F oven for 30 minutes.
Uncover and bake, spooning sauce over chops occasionally, for 15 to 30 minutes more or until tender.