Bev I Am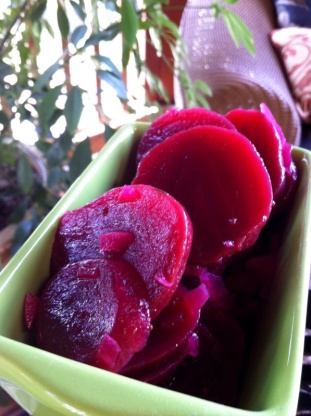 My Recipe Published by Southern Living. I make these weekly, and since I'm diabetic, i use Splenda instead of sugar, and there's no difference in the taste. Onions can be omitted; celery seeds cannot.

This is a sensational recipe! It's no wonder Southern Living published it! The important key to remember here is to allow this salad to sit in the refrigerator until well chilled. I had forgotten I had made this and didn't taste it until the second day after preparing it. Just the right amount of vinegar to sweetness combination!! Thanks so much for sharing your recipe, Bliss!!
Drain beets, reserving 1/2 c.
juice; set aside.
Combine sugar, dry mustard, and salt in a small saucepan; stir well.
Add beet juice and vinegar; bring to a boil over medium heat.
Remove from heat; stir in celery seeds.
Combine beets and chopped onion.
Add vinegar mixture, tossing gently.
Cover and refrigerate salad 8 hours or overnight.
Yield: 8-10 servings.