Margaret's Chicken Roll-Ups
ImPat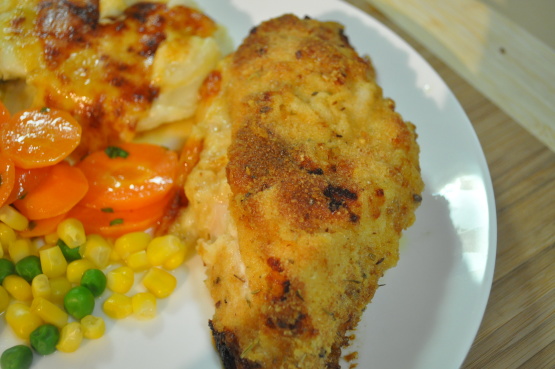 From TOH Holiday recipe guide

Top Review by ImPat
O'kay did not do as quite directed but I hate pounding out chicken and rolling it so just slit it and tucked in the cheese slices and followed through but the breasts were large and the cheese leeched out more than I would have liked so if doing again with such large breasts I would give them 2 or 3 slits and stuff the cheese into each slit and make as directed. I did use a mixed herb mix into the breadcrumbs to season them and then :oops: realized I forgot to add the oregano to the butter but honestly don't think it was needed. Thank you HokiesLady for a recipe that I will venture with, made for Went To Market.
Flatten chick to 1/3 inch thickness.
Place one cheese slice on each piece of chicken and roll-up tightly then secure with toothpick.
Place flour, beaten eggs, and bread crumbs in separate shallow bowls.
Coat chicken with flour, then dip in eggs, then coat with bread crumbs.
Place seam side down in an ungreased 2-3 quart baking dish.
Cobmine the butter and oregano and drizzle over the chicken.
Bake uncovered at 350 degrees for 40-50 minutes or until chicken juices run clear (180 degrees).
Discard toothpicks before serving.