popkutt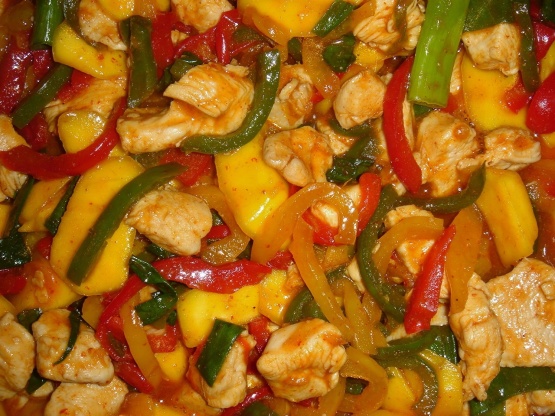 This is an old "Canadian Living" Recipe that has become a family favourite. We all love it, and sometimes I increase the amount of curry paste, depending on who is coming for supper! I normally make it with a pot of rice and a salad. It's a nice "different" dish when you have company. Everyone seems to love it!
I modified by using coconut milk instead of broth, and curry powder instead of paste (used half of the powder as recipe calls for paste). Served over quinoa, very yummy!!
Cut chicken into three 4 inch pieces.
Seed, core and cut peppers into 1-inch pieces.
Slice onions into 1 1/2-inch lengths.
Peel and pit mangoes and cut into 2/3-inch pieces.
Whisk together stock, sugar, soy sauce, vinegar, cornstarch and curry paste.
In wok or skillet heat half of the oil over high heat; stir fry chicken for 4 minutes or until no longer pink inside.
Transfer to plate.
Add remaining oil to wok; stir-fry peppers for 2 minutes.
Stir in ginger, cook for 30 seconds.
Add stock mixture and chicken, cook stirring for 2 minutes or until sauce is thickened and chicken is hot.
Stir in onions and mango.
Sprinkle with cashews (if using).