Jubes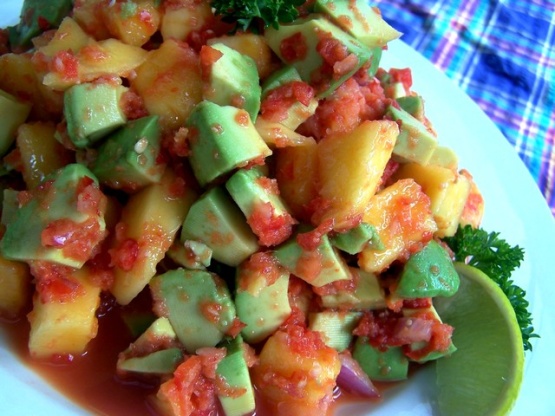 This is a light, refreshing salsa to serve with fish or chicken. It can stay good overnight one night, but that's about its limit. I rarely have to worry about leftovers, if there is any someone eats it as a salad.

Made for Aus/NZ Swap #14. This was yummy and a nice change from regular salsa. Will most definitely make this again. Thanks Sheynath for posting this.
Peel and stone the mango and avocados.
Dice into small cubes (1/4 inch).
Peel and clean the onion, bell pepper, garlic, ginger and chile.
Cut any large items into small chunks.
Place all ingredients escept the mango, avocado and lime juice in a food processor and pulse until very finely minced.
Scrape into a bowl.
Gently stir in the mango and avocado.
Sprinkle with lime juice, salt and pepper and toss lightly to combine.
Serve immediately or cover tightly and chill for a couple of hours.
Serve with fish, chicken or pork.