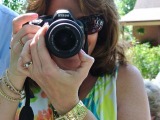 Always extremely popular with young and old alike.
Make and share this M&M Rice Krispies Treats recipe from Food.com.
3 tablespoons butter
1 teaspoon vanilla (optional)
1 (10 ounce) package marshmallows
6 cups crispy rice cereal
1 (12 ounce) bag M&M's (regular or mini)
Directions
Measure out cereal into a large bowl and set aside. Coat a 13x9-inch pan with cooking spray or butter and set aside.
In large saucepan melt butter over low heat. Add marshmallows and stir until completely melted. Stir in vanilla. Remove from heat.
Add cereal. Stir until well coated. Let cool for several minutes. Stir in M&M's, very gently! They will have a tendency to melt. Pour them over the mixture as spread out as possible so you don't have to stir much.
Using wax paper press mixture evenly into prepared pan. Let cool for 15 minutes or until set.
Reviews
Most Helpful
Followed the directions exactly. waited only a few minutes and the M&M's melted and looked terrible.
Great recipe! The vanilla makes ALL the difference to the taste! The Rice Krispies recipe (on the box) never contained this ingredient--big mistake!. And, no joke about waiting a few minutes to stir in the M&Ms. They do melt. I found that I didn't need or want all the M&Ms called for, so no problem if you have fewer than you need.<br/><br/>I double this batch, and make half plain (no M&Ms) and the other half with the M&Ms. By the time you get the plain batch pressed into the pan (and do spray a little PAM on the waxed paper before using it to press the mixture into the pan), the rest is cooled down just enough to put in the M&Ms without melting them all.<br/><br/>I also save about 1/4 cup of M&Ms to press lightly into the top of the batch once the mixture is in the pan. This makes it look that much more festive!<br/><br/>Also, be sure to use those pretty pastel M&Ms in the springtime! ; )
Halloween Central