Mika G.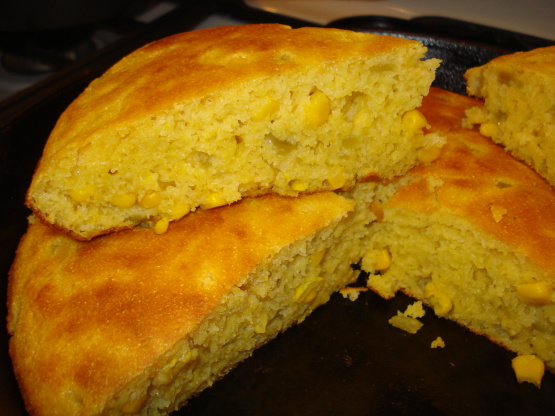 Delicious cornbread that won't clog your arteries. I've adopted this recipe as it didn't have a loving owner. I have made it myself and you can read my comments in my review! I have updated the cooking time and added optional ingredients.

This was pretty darn good, and I was happy it didn't require a lot of ingredients. I made it because my husband requested cornbread and I didn't have my usual mix, but I did have a bunch of cornmeal on hand (no idea how old it is, but it seemed to be okay). I didn't add the corn or the jalapenos - didn't want to freak out my husband, plus I was serving it with jambalaya which is spicy enough. I ended up adding about 3 tablespoons or so of skim milk because my batter was REALLY thick. I cut the sugar to 3 tsp. I baked mine in a loaf pan for about 40 minutes or so, and it turned out pretty darn good, although not as crumby as the cornbread I get from a package. Nonetheless, the husband was happy! Thanks for the recipe.
Preheat oven to 400 degrees F.
In a medium mixing bowl, combine dry ingredients.
Stir in yogurt and eggs. If using stir in corn and jalapeno peppers.
Pour into 8 inch square pan sprayed with cooking spray (or use a cast iron skillet).
Bake for approximately 20 minutes.
Best served warm.