Low-Carb Chicken and Bacon Casserole
Kathy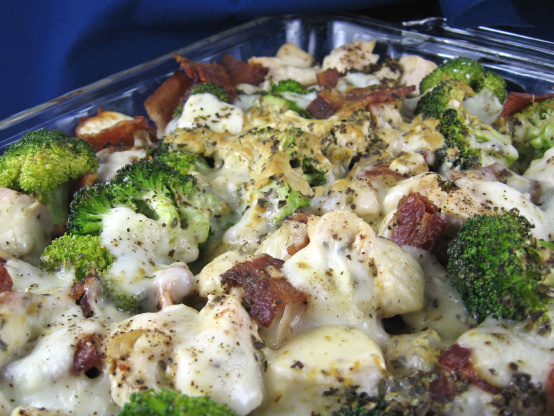 I made it the first time because I was craving something that was sort of like a chicken cordon blue, but with bacon, broccoli and provolone, since that's what I had in the fridge! I also wanted it to be a casserole so my wife could make it when she got home from. So I made it in the morning, put it in a baking dish in the fridge and they cooked it up when they got home. If you're not a big fan of mustard, certainly reduce it, or omit it altogether, it should still be just as good.

My low carb honey and guests LOVED this. I used frozen broccoli and squeezed the water out of it so that it wouldn't make the whole dish water-logged. I cut down on the chicken stock, too, for the same reason. I doubled the bacon. I left it covered for the duration of the cooking time. Next time I might add in some sauteed onions. Faleminderit SHUME (thanks a lot!).
Pre-heat oven to 350.
Cut bacon into 1" pieces and fry until mostly crisp.
Cut chicken into cubes and cook in a frying pan until it is no longer pink.
Place chicken and bacon into a bowl, and put in the fridge to cool.
In a mixing bowl combine broth, cream, mustard, herbs and salt and pepper to taste.
When chicken and bacon has cooled most of the way, stir in shredded cheese and broccoli.
Place chicken mixture into a casserole dish, then pour sauce over the top.
If cooking immediately, place in oven and bake 25-30 minutes, or until cheese is melted.
To refrigerate for later, cover dish with tin foil and place in fridge. When ready to cook, pull casserole out of the fridge and preheat the oven to 350. Bake, covered for 30 minutes, then uncover dish and bake for another 10 minutes, or until the cheese is melted and the food is hot all the way through.