Low Calorie Parmesan Chicken With Tomato Cream Sauce
Derf2440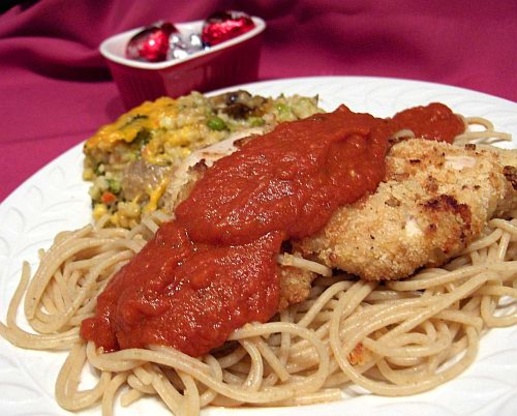 low calorie version of a nomally high calorie dish(but tastes so good your tastebuds won't believe the calorie count!) I usually make a double batch of the sauce and freeze it, then the next time I make this I only have the chicken and pasta to prepare.Great recipe, even my finicky husband and child will eat this!
For Tomato Cream sauce:.
Heat oil in a non-stick saucepan over medium heat until hot.
Add garlic, saute until tender.(do not brown! it makes the garlic bitter).
Add cans of tomato and next 5 ingredients.
Bring mixture to a boil.
Reduce heat and simmer uncovered,20 minutes stirring occasionally.
Combine milk and flour in a small bowl, stirring well with a whisk.
Gradually add milk mixture to tomato sauce, stirring constantly.
Cook, stirring constantly for 5 minutes until slightly thickened; stir in cheese.
Set lid on pot and keep warm on low.
For Parmesan chicken:.
Preheat oven to 350 degrees.
Combine milk and mustard,stirring with a whisk.
Combine breadcrumbs and next 4 ingredients in a bowl.
Dip chicken in milk mixture, then dredge in breadcrumb mixture.
Lightly mist a baking sheet with cooking spray and place chicken on it.
Bake for 15 minutes then flip chicken and bake for another 15 on other side.
*With 10 minutes left for chicken to be done start cooking pasta.
Place 1 cup pasta on each plate top with chicken breast.
Ladle some tomato cream sauce over pasta and chicken.
Sprinkle with a little extra Parmesan cheese.
serve:).