Lobster (or crab) Newburg For Two
CindiJ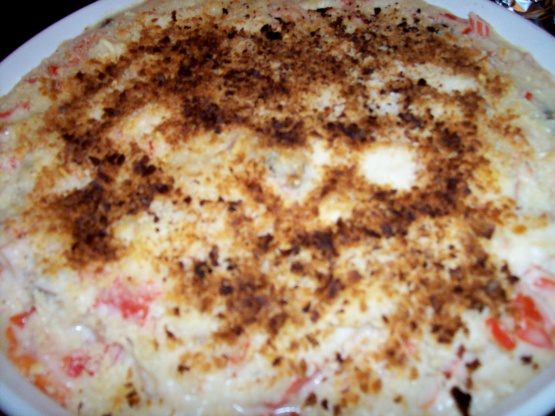 This is another recipe from the Dayton's-Hudson's- and Marshall Field's cookbook. This one was submitted by Leny Sanders of Marshall Field's. It's sinfully delicious, and very easy.

Made this for Valentine's Day for my hubby. We loved it! Because it was a little bland, I added 1/8 tsp each of garlic powder, onion powder, and pepper, and 1 tsp salt. It was a hit in my house. It actually made enough for 4 servings, so we warmed it up for lunch and it was just as good the second time around!!
In lg skillet, melt butter; saute shallot and red pepper.
Add flour and stir until mixed; add broth and sherry.
Simmer for 3 minutes.
Add mushrooms; simmer 5 minutes.
Add lobster or crab and half and half.
Do not boil, but let this mixture heat through.
Spoon into 1 qt casserole dish.
Sprinkle with breadcrumbs and Parmesan cheese.
Place under broiler until breadcrumbs are light brown.