Lithuanian Mixed Vegetable Salad (Darzoviu Misraine)
awalde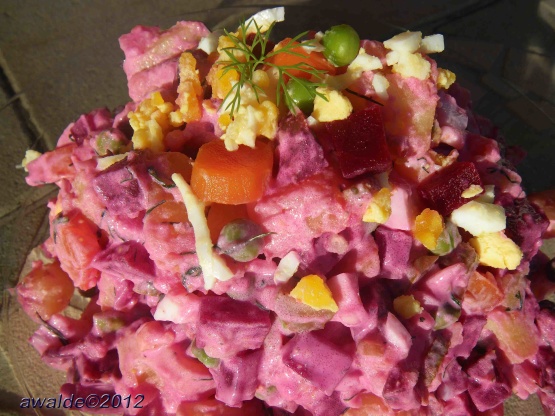 This salad was a regular feature in my childhood, and still appears on the cold table at formal events. It is made of foods that would have been available at any Central/Eastern/Northern European farmstead. Every ingredient, other than the sour cream and salt, is optional. If you omit the beets, it is called a Balta (White) Misraine. Prep time is estimated, and I have not included the time to cook the veggies.

Top Review by awalde
It's hot today and this recipe was really perfect for us.
i'ts a delicious alternative to the usual potatoes sald and offers more veggies!
I used canned beets, frozen peas and instead of sour cream I used plain yogurt with an addition of lemon juice as this is what I have at home. I really had all other ingredients at home and recipe worked perfectly for me and I'm really sure I will prepare it again.
Thanks a lot for this summer dish!
It is very important not to overcook the vegetables, especially the potatoes. All vegetables should be at room temperature. Place vegetables, egg and pickle in a large bowl.
In a small bowl, stir the sour cream to loosen it up. If it is very thick, stir in 1 or 2 tbl. milk.
Sprinkle half the salt and half the dill on the vegetables. Add some freshly ground pepper. Add half the sour cream and stir carefully, taking care not to mash the vegetables. Repeat with remaining salt, pepper, and sour cream.
Serve cold or at room temperature. Leftovers should be stored covered in refrigerator, and will be good for about a week. (If you will be storing more than a couple of days, do not mix in the eggs - add to the portion you are serving. Eggs do not do well over time).
Note: Canned beets can be substituted for fresh. Frozen mixed vegetable or mixed peas and carrots can be used. Cauliflower or cooked white beans are also excellent in this dish. Change the ingredients or proportions to meet personal preferences. Just keep the ratio of cooked vegetables at about 7 cups to 1 cup of sour cream.
Note2: Dried dill is not very good in this dish, I would use fresh parsley if dill not available. I also tend to use little salt, so check the level to suit your needs.