Linguine with Chicken and Peanut Sauce
lazyme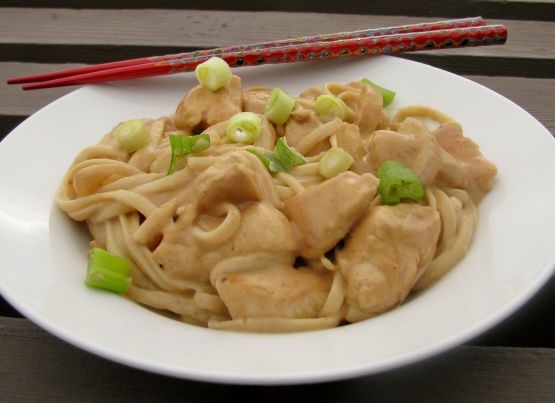 I will have to be honest and say we really did not care for this. I found the peanut butter taste to be too strong. Perhaps if made again, using less pb would help. To counteract that, I used a LOT more soy sauce and some fish sauce & even some hot sauce, but the pb was just so overpowering. I see that a lot of other people really enjoyed it, so I think it is more a case of our personal tastes and not the fault of the recipe. That being said, I do think the sauce itself was missing something tastewise. Also I think it could use some veggies, maybe some broccoli or snow peas, just to addd a bit more to it. I always enjoy trying something new and thank you for posting the recipe.
Cook pasta according to package directions, preferably al dente (firm to the bite).
Drain; keep warm.
For sauce, in a medium mixing bowl, stir together chicken broth, wine or water, soy sauce, cornstarch and red pepper.
Stir in peanut butter until smooth.
Set aside.
Rinse chicken; pat dry with paper towels.
Cut into 1-inch pieces.
Set aside.
In a wok or large skillet heat the oil over medium-high heat.
(Add more oil as necessary during cooking.) Add onion, garlic and ginger to hot oil; stir-fry for 2-3 minutes or until onion is crisp-tender.
Remove onion mixture from wok.
Add the chicken to the wok.
Stir-fry about 3 minutes or until chicken is tender and no longer pink.
Push the chicken from the center of the wok.
Stir sauce; add to center of the wok.
cook and stir until thickened and bubbly.
Cook and stir for 2 minutes more.
Return onion mixture to wok; stir all ingredients together.
Arrange pasta on individual plates or a serving platter.
Spoon the chicken mixture over pasta.
Sprinkle with green onions.