Chef Dee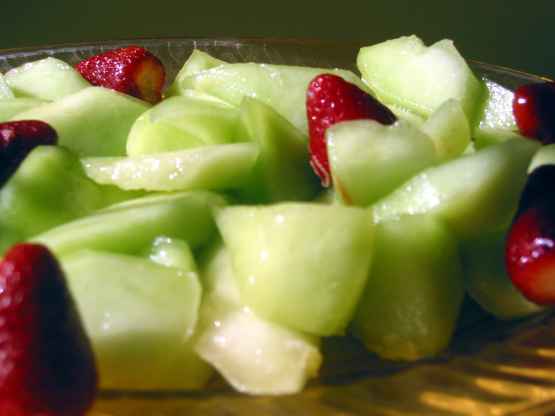 A light refreshing mixture to serve for breakfast or as a summery dessert. I use Splenda as I cannot digest sugar, but you can use sugar in its place if you wish. I haven't used ginger powder in place of fresh ginger. If you do, let me know the results!

I had a honeydew that wasn't quiet ripe enough to stand alone. This was a great way to give it some zing and sweetness without making it too sophisticated for my toddler's paletes. I used the ginger powder (shook some in, don't know how much) and it think it is perfect.
Combine splenda or sugar with water in a small pan and bring to a quick boil.
Remove from heat and stir to melt the sugar.
Cool for 4 minutes in the refrigerator.
Add zest, lime juice and ginger into the sugar mixture.
Put melon in large bowl and pour sauce over the melon, stirring gently to mix.
Return to refrigerator until ready to serve.