Light Cheesy Burgers - George Foreman Grill
Redsie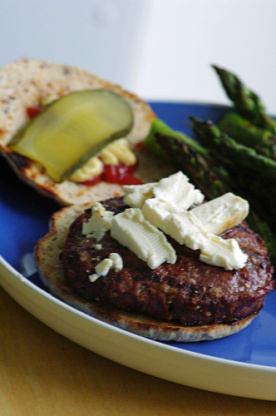 I decided to experiment one day when cooking some burgers up for lunch - and was VERY pleased with the result! Now, when I make these, I don't measure out the spices - I just put dashes of what I know we like. Therefore, these measurements are estimates - adjust according to your taste buds. Also, you may adjust the size of your patties - which may change serving size a bit. This recipe is flexible! :) Hope you like it too!

Top Review by Redsie
Never thought of adding Laughing Cow cheese to my burgers... delicious!! I was a bit lazy - so made one nice burger and added the cheese on top right at the end so it would melt a little!! Didn't have any liquid smoke - but followed your suggestions for spices - mmmm good! first BBQ of the 2010 season and its a winner!! :)
Mix meat using a fork with all of the ingredients except the cheese and bread.
(I wear plastic food safety gloves) Form into 10 patties (pat to make thin).
Put 5 of the patties onto a heated (on max) george foreman grill.
Put 1/2 a cheese wedge on top of each patty, and top with additional patties. Close grill lid and let cook for 6 minutes (flipping if you like halfway through.).
Put onto bread spread with your favorite condiments. Add veggies if you prefer and enjoy!