Geema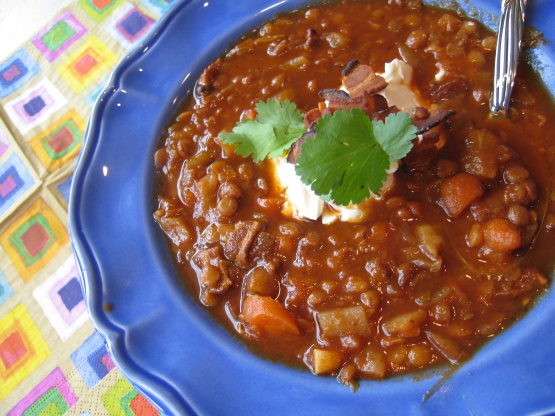 A way to use up some plain yogurt and have a homey soup. This soup can be prepared 3 days ahead, refrigerated and re-heated. Recipe source: Bon Appetit (April 1985)

Top Review by Geema
Different...but delicious. This recipe veers drastically from my normal lentil soup, using cabbage, paprika and chili powder. But, the results are rich and appealing. The long cooking results in a deep flavored, satisfying soup lightened a bit by the dollop of yogurt on top. My DH shook a shower of red pepper flakes on top of his and enjoyed every mouthful. Thanks for breaking me out of my lentil soup rut.
In a large soup pot or saucepan cook bacon over medium heat until crisp. Pour off all but 2 tablespoons fat.
Stir in vegetables and herbs (next 9 ingredients or onions - caraway) and reduce heat to medium low, cover and cook until vegetables are tender (20 minutes).
Stir in tomato paste, paprika and chili powder and stir 3 minutes before adding the 8 cups of broth or stock.Simmer for 1 hour.
Stir in lentils, covering pot partially and simmer for 2 3/4 hours, stirring frequently and adding more broth to pot if needed.
Season with salt and pepper. Add more chili powder if desired and cook for another 15 minutes.(see note in description).
Ladle into bowls and top with yogurt or sour cream.