Lentil, Pea and Potato Curry
nnaaddyy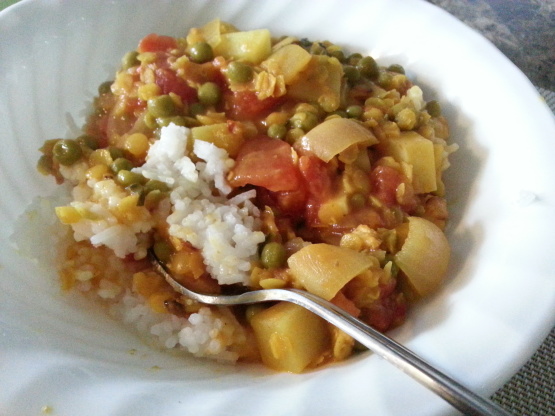 Lentils, peas and bite-size cubes of potato in a richly-spiced tomato and coconut milk gravy. Found at Mediterrasian.com.

Top Review by Linky
While this eventually turned out to be very good, I had to do some adjusting. The recipe said it served 2 but it seemed like such a large amount of ingredients would make too much. So I cut everything approx. by half, except the coconut milk. I used a whole can (almost 2 cups) b/c I didn't want to store half a can. I added additional curry spice at the end, along with some salt (did I miss that in the recipe?). It smelled heavenly and tasted wonderful. Now I'll know to keep the spices at the original recipe's amounts! Thanks, Kiwi Kathy!
Heat the oil in a large saucepan over a medium heat and cook the onions for 10 minutes, stirring occasionally.
Add the garlic, ginger, ground coriander, cumin, turmeric and chili and cook, stirring, for 1 minute.
Add the potato and lentils and stir to coat with the spice mixture.
Add the tomatoes, coconut milk, stock, garam masala, salt and sugar, bring to the boil and cover with a lid. Reduce the heat to medium and simmer, covered, for 20 minutes, stirring occasionally.
Add the peas to the curry and simmer, uncovered, for 5 minutes.
While the curry simmers, cook the rice.
Remove from the heat and stir in the cilantro and lemon juice.
Serve on a bed of rice.