Lentil and Pea Soup (Ham Hocks)
Derf2440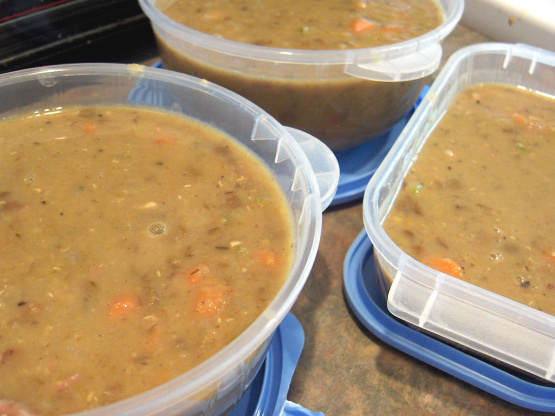 Try this hearty soup for supper with chunks of rye bread to dunk. All you'll need to finish a comfort food supper is some apples and cheese for dessert.

I just made this soup last night and it was wonderful. The smokey flavor of the ham hocks adds just the right touch. For the base, I added 6 cups low fat chicken broth and then added 6 cups water. I also added thinly sliced Kielbasa sausage during the last half hour, for my husband the carnivore! We dunked bits of Foccacia in ours.
In a heavy (cast iron is best) dutch oven heat oil over medium heat.
Add onion and garlic and cook about 5 minutes, stirring until soft.
Add remaining ingredients except carrots,celery and lemon slices.
Bring to boil.
Reduce heat to low, cover pot.
Simmer 1 1/4 hours.
Add carrots and celery.
Bring back to boil then reduce heat and simmer 40 minutes, uncovered.
Remove pot from heat.
Lift out hocks and bay leaf, discard bay leaves.
Cool hocks enough to handle, remove fat and bones.
Put meat back in soup. Stir and heat gently.
Float a lemon slice on top of each serving.