Chef Paul's Red Bean S and Rice With Ham Hocks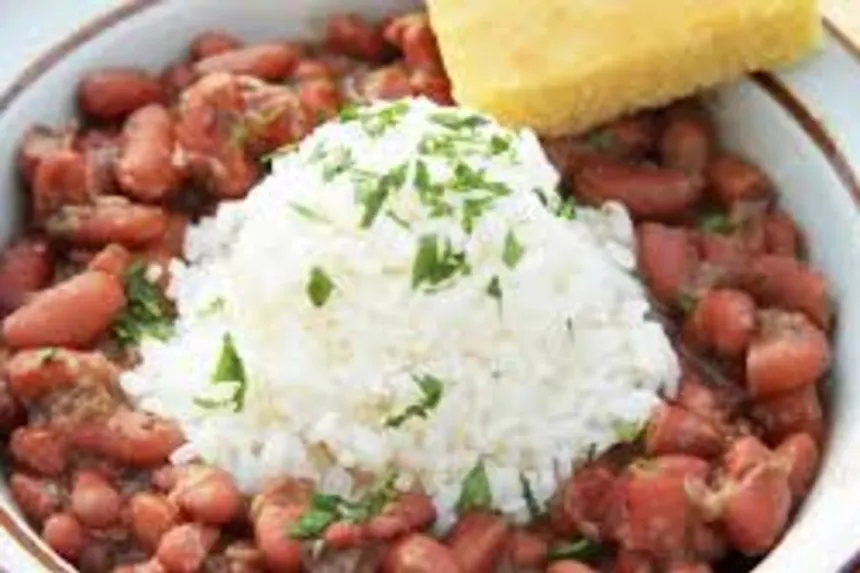 photo by John H.

Ready In:

27hrs

Ingredients:

16
directions
Cover the beans with water 2" above beans.
Let stand overnight.
Drain just before using.
Place the ham hocks, 10 cups of the water, celery, onions, bell peppers, bay leaves, and seasonings in a 5.5 qt saucepan or large Dutch oven; stir well.
Cover and bring to a boil over high heat.
Reduce heat and simmer until meat is fork tender, about 1 hour, stirring occasionally.
Remove ham hocks from pan and set aside.
Add the drained beans and 4 cups of the water to the pan; bring to a boil, reduce the heat, and simmer 30 minutes, stirring occasinally.Add the remaining 2 cups of water and simmer 30 minutes, stirring often.
Stire in the Andouille and continue simmering until the beans start breaking up, about 35 minutes, scraping the bottom of the pan fairly often.
*If the beans start to scorch, do not stir. Immediately remove from heat and change to another pot without scraping any of the scorched beans into the new mixture.
Add the ham hocks and cook and stir 10 minutes more.
Serve immediately over hot, white rice.
Reviews
I've sat and watched Paul, Leah, Emeril, and John cook and love what each gives to this dish. When i have all night, I soak the beans, when I have far less time, as is usual, I rinse and sort the beans and then place 2 lbs in a pressure cooker and boil with heavy steam for 17 minutes. Then I rinse the beans thoroughly to remove much of the gas producing "raffinose" I add the beans into a 8 qt slow cooker and add Cajun seasoning, sautéed Vidalia onions, red, orange, yellow, and green bell peppers, celery, and minced garlic with smoked hog jowls and while the beans are cooking in homemade chicken broth, prepare the Louisiana rice in a big pot with a thick bottom or a 46 cup rice cooker. All the while remembering the great chefs of south Louisiana who cooked this dish so perfectly, each putting his/her flavor on it. Bon Appetit!

 

Good recipe but I would change a couple of things: NO WATER. Substitute 1/2 and 1/2 chicken/beef stock. I make homemade stock with the ham bone and then make up the difference with box stock. Include celery leaves -- it helps to thicken the broth. Brown the sausage and drain well before adding to the beans (I blot mine with paper towels). Don't add it until you're about 30 min from serving. Otherwise, you can cook it to death and it will lose some of its texture and flavor. We eat red beans soupy in the South -- but you can certainly use less liquid if you like. You can also add a little corn starch to thicken it. Also, use fresh minced garlic -- 4-6 cloves -- depending on how much you like garlic. I use lots!

 

I made Paul's red beans and rice and they were fabulous. My son and his wife are big into Louisiana cooking and they said they were the best they have ever had. I will be making them again this weekend as they are returning from a vacation at Disney with the grandkids and they requested them. Don't hesitate to make this one as it is easy and awesome.

 

Have made this several times. Recently moved and can't find the cookbook, but thankfully found it here. This baby is the REAL DEAL.....I know it's the traditional Monday dish in The Big Easy, but I love to make it on Sundays while watching football! I agree with the Nudist Chef....Use the best Andouille you can find! My mouth is watering....making it this Sunday!